Pie Bird Restaurant
Pie Bird - Raleigh, NC
A frustratingly good idea named Pie Bird sets it's roots into Raleigh's historic Oakwood district.
I paid my first visit to Pie Bird almost 2 months after their opening. Although they reside within a football throw of my doorstep, time simply hadn't allowed a visit. When the folks stopped into town last week I realized it was a perfect chance to check the place out, I was certainly not disappointed.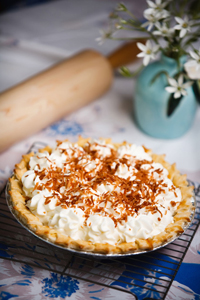 The space is tastefully decorated and cheerful in color. Exposed brick allows the eye to wander to the foodie-focal point - The vintage glass front fridge. A closer look highlights the trump card of the establishment - delicious pies and cakes, in a wide assortment, of some styles I couldn't even harbor a guess to ID. After spotting my victim (blueberry), I ran to catch up with the rest of my table who were already seated.
The menu was succinct, but long enough to hold a few minutes of interest. After a little debate with the sever, I settled on Shepard's Pie (and a few bites of my dad's Chicken-Pot-Pie) and both were accompanied by a fruit laced salad. The dishes were priced very reasonably and the staff was friendly and attentive. The place was certainly popular and to a degree, the tables felt a bit close. The spacing was easy to overlook though once you realized everyone around you had the same childish smile on their faces. Over a few locally brewed beers, we chatted with our neighbors and reapplied those childish smiles as our plates were presented. The meals were spot on, a great balance of portion size and ingredient quality. The meals were great and honestly better than I expected, but the feature was without a doubt the dessert list. The blueberry pie holds a debatable tie as the best pie I've ever had in my life. A insane balance between a fresh berry goodness and sugary tartness, my limited vocabulary surely don't do it justice.
Pie Bird has a bright future ahead of it and I'm glad to have a front row seat to it's upcoming ventures. It certainly deserves pie-drive-by, but if you're looking for a great date location or a (currently) hidden gem to flaunt to your friends - Pie Bird deserves your patronage. But don't take our word for it...
Update: Pie Bird has unfortunately closed down. We will be leaving this post up with the hopes that it will re-open sometime soon :)
---
Video
Related Posts