One of Raleigh's dessert mainstays - Goodberry's Frozen Custard is made with the freshest ingredients you could ever imagine.
A hundred years ago, if you wanted fresh ice cream you loaded up your car and went to the creamery (right next to the daisy farm). Today all you need to do is head to your closest triangle area Goodberrys Frozen Custard to get the freshest ice cream humanly possible.
The Best Frozen Custard in the Triangle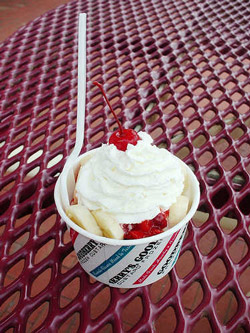 Goodberrys Frozen Custard is more than just ice cream though, it's the home of it's trademark frozen custard. Select the ice cream base and toppings, then watch your homemade custard get mixed right in front of your eyes. By using fresh heavy cream, whole milk, natural cane sugar, and eggs Goodberrys generates the thick flavorful custard with a smoothness and texture you just can't forget.
Start With Quality Ingredients
Then there are the fruits... which are resourced primarily from the Pacific Northwest. Blackberries, blueberries, raspberries, cherries, peaches, strawberries, bananas, coconut, pineapple.. They're all on the menu - and they're all delicious. The selection of pecans, macadamia nuts, walnuts, almonds, caramel, butterscotch, peanuts, mocha, and brownies all add to your possible concoctions.
Goodberrys frozen custard is spun fresh every hour, right in front of your eyes. Free samples are always available, but that ends up more like a trip down the "rabbit hole" then anything. I'd suggest picking on ingredient and just committing to it. I'd also suggest trying the Carolina Concrete, if you're in a mood for one of their thicker ice-creams. Make a visit to your triangle area ice cream palace and you won't be disappointed.