There's still nothing like an original doughnut from one of it's original stores... Krispy Kreme Raleigh.
It was way back in 1937 that Krispy Kreme opened their first store in Winston-Salem, North Carolina. The company's national success and quick rise to popularity are partially due to Vernon Rudolph (its owner) and partially due to butter soft doughnuts they produce.
Why Winston-Salem?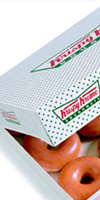 Many folks have speculated that Rudolph was inspired by the pack of cigarettes he was smoking at the time. He suspected that any city that can carry the tobacco industry can also house another. After the success in Greensboro, the capital city was the next big step.
The first Krispy Kreme Raleigh (and the second ever) is located at the intersection of Peace and Person Street in the Historic Oakwood district of Raleigh, NC. The giant neon sign will be your beacon, but when you approach you'll be looking for the smaller iconic neon light.
The "Hot Now!" sign
Krispy Kreme stores began installing their "Hot Now!" signs soon after there expansion to Raleigh. The brilliant move ensured Krispy Kreme Raleigh a local landmark status.
Besides the delicious doughnuts, Krispy Kreme Raleigh has recieved national exposure as the hosting location for the Krispy Kreme Challange. The event started In 2004 when NC State students developed a charity race that took runners two miles down Hillsborough Street to Krispy Kreme Raleigh where participators are forced to scarf down A DOZEN DONUTS then run the two miles back... within an hour. If you enjoy making fun of athletes as they vomit, this is your Graceland.