If you're new to NC BBQ we suggest swinging through The Pit - Raleigh based bbq powerhouse.
It begins with the local legend Pitmaster, Ed Mitchell. The king of southern cooking proudly serves classic whole-hog, pit-cooked barbecue with the best sides you've ever placed on a fork. Visit downtown Raleigh's Warehouse District and have a taste of the best culinary offerings of the City of Oaks.
The Pit Raleigh has made a name for itself as the destination for the state's signature cuisine. All pigs used to produce the barbecue are even local - raised on free-range North Carolina farms.
Founded by Ed Mitchell, the Godfather of NC BBQ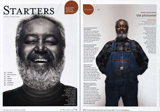 With a few contemporary twists on Southern favorites, any foodie will be kept entertained... but you'd be a fool not to order a slab your first time there. Besides the delicious vinegar based BBQ, out-of-towners can even order a Texas-style brisket as long as they don't mind a few eye rolls. Mother Mitchell's fried chicken is certainly a decent runner-up, no matter what you do though get extra sides. The potato salad is only outdone by the baked mac-and-cheese... which is only outdone by the fried okra... but honestly - they're all good. The Pit's contemporary brick walled warehouse reno actually lived it's former life as a 1930s meatpacking warehouse.
More Then Just NC Barbeque
All of the spirits served at The Pit Raleigh have been handpicked to enhance the smokey plates. Pairing wines and beers with varieties of barbecue truly adds a layer of education to your visits. One great suggestion (if you're a fan) is to take a viewing of the wide selection of bourbon whiskey at the spacious horseshoe bar. Whether you're a local or just a businessman passing through town - The Pit Raleigh is not an experience to miss.
---
Location Detail & Directions