Hopscotch Music Festival has been committed to bringing top-shelf national talent from numerous genres to the thriving community of downtown Raleigh, North Carolina.
Originally formed by the Independent Weekly's musical directors Grayson Currin and Greg Lowenhagen, Hopscotch has recently taken on a life of it's own. Guided by thoughtful / forward thinking programming and a belief that providing a comfortable environment for the artists would inspire their best work, the Hopscotch Music Festival guarantees an amazing weekend for music lovers of all kinds. The addition of the Hopscotch Design Fest and some incredible Hopscotch music festival day parties mean the fun comes in all forms. Check out previous lineups and a few Hopscotch festival reviews and you'll be booking your tickets in no time.
Welcoming National Talent with Southern Hospitality
Each year the team at The Independent Weekly books more then 100 artists occupying more then a dozen downtown venues. Keep in mind, that's not even counting the ever growing Hopscotch music festival day parties. By bringing in incredible artists and pairing them with rich local talent, visitors are left with an amazing concoction. This rich mixture of southern culture and far spun influences come together and make blocks of downtown Raleigh hum for days on end. Acts spanning rock, hip-hop, metal, edm, punk, trap, folk, and more all put on incredible shows just steps from one another.
Previous Headliners of Hopscotch Music Festival Raleigh, NC
The festival truly thrives on the variety and quality of its lineup, with roughly a third of the musicians hailing from Raleigh, Durham, Chapel Hill area. It's a testament to both this region's musical chops and its growing national relevance. Below we've listed a few of our favorite acts from previous lineups.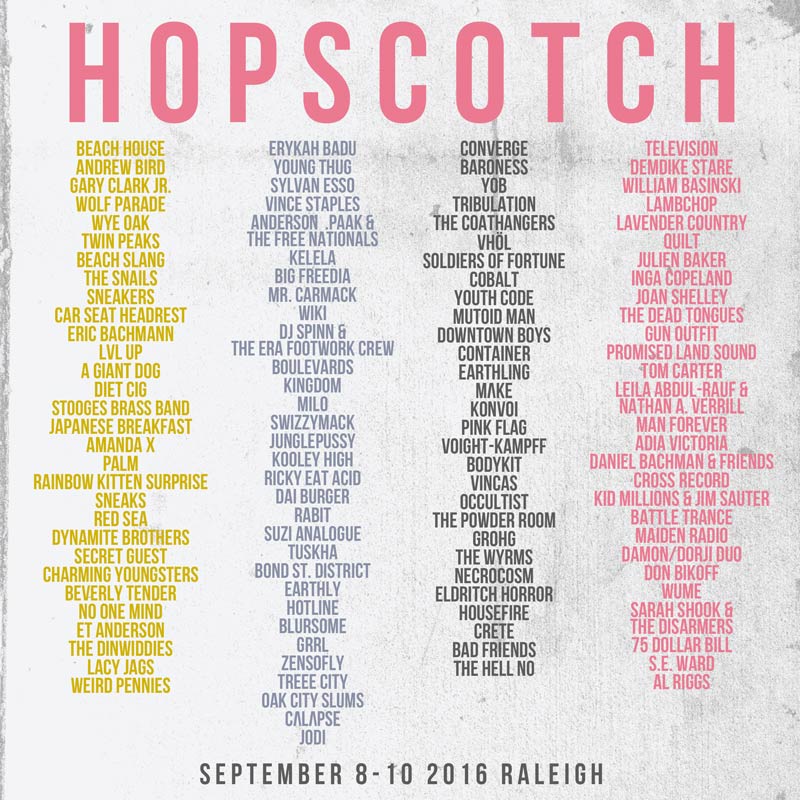 2016 Hopscotch Music Festival Lineup
Erykah Badu, Beach House, Young Thug, Gary Clark Jr., Sylvan Esso, Wolf Parade, Wye Oak, Milo, Kooley High, Bodykit, Blursome, Treee City, and more (See Full Lineup Here)
2015 Hopscotch Lineup
American Aquarium, Birds of Avalon, Boulevards, Dwight Yoakam, Mumdance, Pusha T, TV On The Radio, and Tycho.
2014 Hopscotch Lineup
De La Soul, Diarrhea Planet, Jamie XX, Joe Scudda, Lunice, Mastodon, Rapper Big Pooh, Spoon, St. Vincent, T0W3RS, and Valient Thorr.
2013 Hopscotch Lineup
A-Trak, Action Bronson, Cesar Comanche, Earl Sweatshirt, Future Islands, Holy Ghost!, Matthew Dear, The Breeders, and Wolf Eyes.
2012 Hopscotch Lineup
Azure Ray, Birds of Avalon, Deerhoof, Flosstradamus, Killer Mike, Nick Catchdubs, The Roots, Whatever Brains, and Yo La Tengo.
2011 Hopscotch Lineup
Bird Peterson, Black Lips, Future Islands, King Mez, L.E.G.A.C.Y., Lonnie Walker, Superchunk, The Flaming Lips, and The Foreign Exchange.
2011 Hopscotch Lineup
9th Wonder, Active Child, Bear in Heaven, Best Coast, Lonnie Walker, Panda Bear, Public Enemy, Raekwon, Love Language, and Treasure Fingers.
Now Featuring Hopscotch Design Fest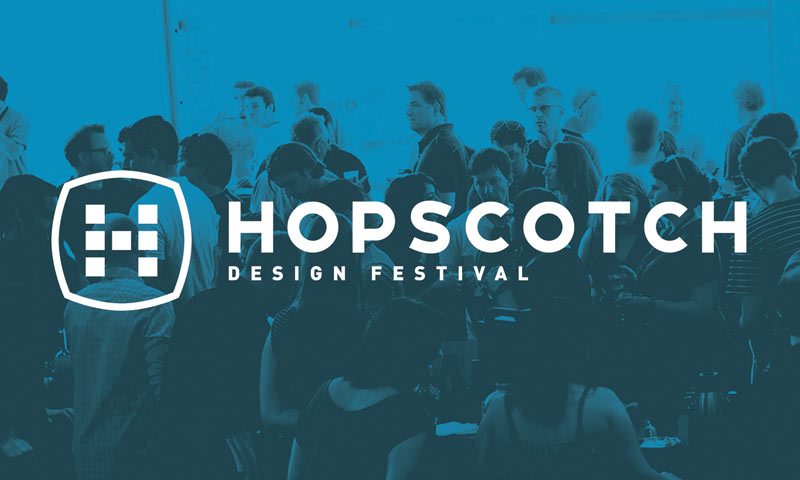 ---
Nothing pairs with music quite like art and the Hopscotch Design Fest (http://hopscotchdesignfest.com/) highlights that synergy well. While this piece of the festival is only a few years old, it's coming together as a great piece of the puzzle. Industry leaders and artists fill the downtown museums and galleries speaking on all kinds of design and development topics. Bringing big names to Raleigh's thriving design community have made Hopscotch Design Fest an impressive addition and continued growth will really make it an anchor for the festival as a whole.
Select Hopscotch Festival Reviews
"The festival is like a younger cousin to SXSW or CMJ...However, where the enormity of cities like Austin or New York make it all but impossible to jump between bars without spending your entire festival en route, Hopscotch is small enough that skipping between shows actually makes sense. Plus, roaming the streets between can't-miss acts leaves lots of time to run into new friends, get sidetracked into unexpected shows or end up on a random adventure. And there was plenty of that."

Mountain Xpress, Asheville
---
"In Raleigh Thursday through Saturday, it was all about an extraordinarily cool roster of bands. With streets cordoned off throughout the downtown area, thousands of people...wandered among ten participating music venues, creating a Mardi Gras-like atmosphere."

Rolling Stone
The Hopscotch Music Festival in Raleigh, NC truly floods the downtown area with talent. While the Hopscotch Music Festival Day Parties may currently be our favorite addition, the Hopscotch Design Fest is slowly gaining ground. No matter what your taste, if you live in the south or simply looking for an excuse to visit - this is one of the best times of year to explore the city. If you have any questions about the festival or the city in general, feel free to shoot us a message on Twitter (we love to support our hometown). Thanks for stopping by and if you think this info would be useful to a friend or client, we'd certainly appreciate you sharing it on any of the socials with the links below.