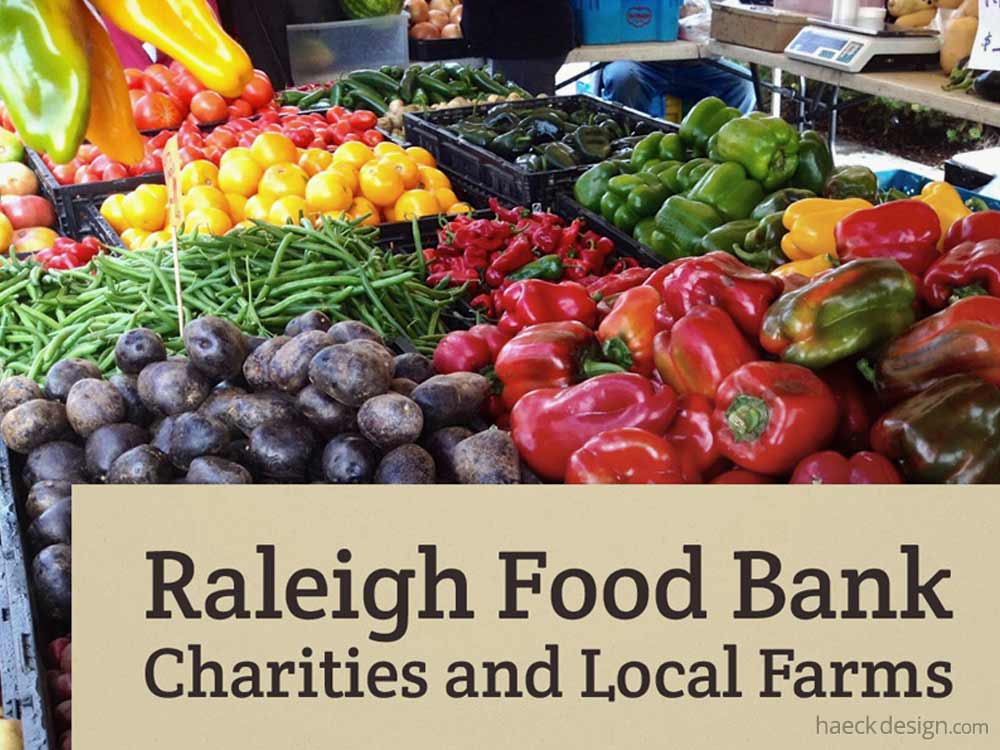 Raleigh Food Bank Charities and Local Farms
Give the triangle community a hand by supporting Raleigh food bank charities and local farms.
There have been substantial cuts in government assistance and in this time of need, providing food for our community should be at the top of our priority list. Sometimes that means volunteering at local food charities, but it can also mean simply supporting our own local agricultural industry. Here are a few ways that anyone can help out.
Wake County has thankfully been served for several years by a few large Raleigh food bank charities. The two largest are always looking for Triangle residents who are able to give a hand...
Raleigh Food Bank Charities
Food Bank of Central and Eastern North Carolina: The Food Bank of Central and Eastern North Carolina is a nonprofit organization that has provided food for at risk members of our community for over 30 years. Originally established in 1980, the food bank now serves over 34 counties from roughly 800 partner agencies. Although the name is a bit long winded, this is my personal favorite Raleigh food bank and I believe it's safe to say that the good they've done North Carolina is absolutely immeasurable.
---
Inter-Faith Food Shuttle: Inter-Faith Food Shuttle are pioneers innovative solutions designed to end hunger in the Triangle community. Instead of discarding foods from local restaurants, Inter-faith has built a network of distributors to provide the food where it is most needed. They've made brave strides in battling hunger (especially in the capital city) and their innovative approach deserves all of our support.
---
---
If volunteering your time or money isn't an option, there are still ways you can support your local farming community. Purchasing directly from the farmers themselves is certainly the best option, but joining a great Co-Op does also allow you the convenience of delivery.
Triangle Area Farming
Raleigh Farmer's Market: Any Triangle area resident should make regular rounds to the Farmer's Market if at all possible. Farmers from all around North Carolina join every weekend to provide their seasonal best. From fruits in the spring, to vegetables in the fall, or Christmas trees in the winter... There are so many reasons to make a stop to the market bordering NCSU's Centennial Campus. http://www.ncagr.gov/markets/facilities/markets/raleigh/
Raleigh City Farm: This revolutionary concept has grown from an idea into fruition in just months time. By purchasing a parcel of land in Raleigh's Historic Mordecai (bordering Peace College) and relying on local volunteers, Raleigh City Farm has become testing ground for a fantastic idea. Time will tell of course, but the farm has received high praise from both neighbors and local restaurants who now have a new local source for amazingly fresh foods. https://raleighcityfarm.org/
Raleigh Downtown Farmers Market: Between the months of April and October, downtown Fayetteville Street is transformed every Wednesday into the Downtown Farmers Market. North Carolina farmers are invited to bring their best to City Plaza and locals are given the opportunity to see just how efficient the farm to city sales process can be. http://www.raleigheatlocal.com/
Triangle Area Co-Ops / Groceries
Carolina Grown: One great resource for community minded foodies is a small business named Carolina Grown. They connect local farmers to the Triangle community with their food delivery service. Carolina Grown
Harmony Natural Foods: When Whole Foods or Fresh Market just isn't fresh enough, you should pay a visit to Harmony Natural Foods. It's selection of high quality organic foods will leave you absolutely floored. http://www.harmony-farms.net
It may not seem like much, but every bit of support for our Triangle community helps. If you have any suggestions for other efforts that should be noticed, please leave them below.
---
---
Video
Written By:
Jenn Curtis - Jenn Curtis is an Atlanta based design specialist with an amazing talent for managing clients and design teams alike. Her detail-oriented nature compliments her SCAD schooling, to create a powerhouse of project management. Off the clock Jenn enjoys camping, endless hours of triatholon training, and a healthy bit of travel almost exclusely oriented around seeing the great museums of the world.
(About Jenn Curtis)
Related Posts