Founded in Raleigh in 1967, Wake County SPCA is dedicated to creating a community where every animal has a home.
Each year the Wake County SPCA rehomes thousands of animals through their innovative adoption programs and lost & found efforts.
SPCA Mission Statement
The mission statement of the SPCA remains as relevant today as it was when it was first penned: To protect, shelter and promote the adoption of homeless animals; to provide education about responsible pet ownership and to reduce pet overpopulation through spay/neuter programs.
The Wake County SPCA operates two remote animal shelters and each facility serves it's own unique purpose. The first facility is the SPCA Curtis Dail Pet Adoption Center, located at 200 Petfinder Lane in Raleigh. This facility focuses on pet adoption and building public education. The Adoption Center location does not accept any incoming animals.
Wake County SPCA Locations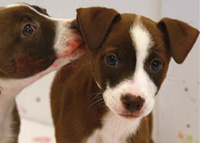 The second facility operated by the SPCA is the SPCA Lost & Found Pet Center, which is located at 327 Highway 70 East (in Garner). This location accepts incoming animals from residents of Raleigh and Cary or nearby areas. This intake policy is specifically intended to keep the SPCA shelter from overflowing (which could place more animals at risk). Splitting the responsibilities among two locations, allows the Wake County SPCA to run in a more efficient manner. This is done to benefit the animals and to ensure that precious resources allocated by local government for animals are used effectively.
The History of the SPCA
The SPCA is a government funded autonomous organization and is not affiliated with or supported by any other SPCAs including the ASPCA. The SPCA is not a government-run organization. It's funds are dispersed and handled on a community level. The Wake County SPCA is a private, non-profit organization that serves the pets and people of the Wake County community.
Donate Online Today
Donate online through their website, if you prefer to speak to a person, we'd suggest calling SPCA Donations Coordinator Ralf Hollander at 919-532-2083 or rhollander@spcawake.org.