Brand Development Services
Brand Development & Identity Services
The often overlooked art of strategically creating positive brand associations.
Your brand starts by finding it's voice, then immediately follows up by delivering your message. Not all messages are as overt as a "For Sale" sign, but they're all as important. The tone, color, texture, and feel comprise your company's personality. Ultimately it's that personality which defines the quality of your company's messaging and branding.
What Brand Development and Identity Services Do We Offer?
Brand Development & Identity Services

Constructing a world-class brand doesn't just happen by chance. It comes about through a series of purposeful measures rooted in the fusion of discipline, strategy, and unrestricted creativity. The process is difficult, but the primary questions we're looking to answer with our brand development and identity services are relatively simple...

1. Who are you?
2. Who should know?
3. Why should they care?

Brand Creation

Most businesses consider branding long after the doors have opened. That means a majority of business owners have found themselves in the position of trying to create a brand a little bit late. We work with the company reps to establish logos, taglines, textures, mastheads, signatures, fonts, colors, and usage guidelines all in a timely manner. This methodical approach has the explicit intent of providing a cohesive style and message, that is delivered subtly and creates a positive impact.

Creative Consulting

A lot of business owners are primarily "left-brained" thinkers, which makes creativity a bit of a necessary evil. For those who know it must be addressed, but would rather not dedicate too much time to the endeavor - We'll happily take on the task for you. We use our creative skills to generate an engaging product for our clients and involve them in the process as little or much as needed. From establishing a complete design approach, to offering holistic corporate identity solutions - Our clients are guided through the intricacies of design, while allowing them the time to focus on what is most productive in the "big picture"... mainly running their business.

Brand Analysis and Brand Planning

Good instincts just aren't enough when it comes to brand analysis. True brand analysis involves methodically sizing up a particular situation, then deciding on a tactical approach. Knowing how a sector functions, the variables involved, the direct competition... all these factors play a role in clarifying a businesses direction. That's why they should be taken into account during the brand planning phase. In the big picture, brand analysis and brand planning aim to answer these important questions...

1. Where are we?
2. Why are we here?
3. Where could we be?
4. How can we get there?
5. What do we need to do to get ready?

Corporate Identity Solutions

Thoughtfully designed corporate identity solutions go well beyond logos and business cards. As with brand analysis, effective corporate identity utilizes research to develop a deep knowledge of the market sector, a cohesive brand strategy, and the distinct ability to differentiate ourselves from competitors. In addition to the basic brand development, a corporate identity needs to consider macro concepts such as intellectual property rights, social media approach, naming rights, trademarking, and branding segmentation. These topics obviously just scratch the surface, but should give you a general idea of what takes place behind the scenes when providing incredible corporate identity solutions for our clients.

Marketing Strategy Consulting

When evaluating a brand's core strengths & weaknesses, we first need to identify our audience. The next step is figuring out what makes that audience engage. By offering an array of marketing solutions, we make sure to direct that audience in a way that is mutually beneficial. After delivering on a specific campaign, we then follow up with results testing to ensure that our marketing strategy consulting is delivering for your company in the most efficient way possible. This form of consulting allow our clients to rent a marketing team, instead of taking on what can be a daunting cost to do what every business owner knows they should be doing on the marketing front.
Branding Conveys Your Message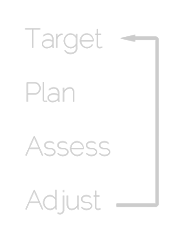 The brand development concepts listed are a bit hard to grasp for most, because they're really intended to deliver high impact in a subtle approach. If you know you're company needs to do work on it's brand, but aren't quite sure what services would be most effective - shoot us a message and we'll give you a little guidance. The primary goal for our Raleigh branding firm is to work with our clients natiowide to turn their brand into something consumers can "feel". Every human is constantly exposed to marketing, but our brand development and identity services take on the science of figuring out why people respond to certain approaches differently and use that information to make smarter choices.
Let us know a little about your brand and what you'd like to achieve with the contact link below. We'll let you know what our branding studios can offer you to get your brand the recognition it deserves.
What Do Recent Clients Think?
Matthew designed a new logo for our non-profit. We have received rave reviews and can't wait to roll it out with a new website and marketing materials. The logo is clean, uncluttered yet perfectly depicts our organization's mission.
-
Patrice Robinson - Child Care Solutions