The father of the Rural Studio, Auburn's Samuel Mockbee was a founding father of American's Sustainable Architectural Movement. His commitment to architecture and ethics leaves a shining legacy for todays socialy consious architects.
The architectural profession lost one of its most socially responsible members when Auburn's Samuel Mockbee, age 57, died on December 30, 2001 of complications of leukemia. An inspiring educator, gifted practitioner, and a passionate artist, "Sambo" showed us that humble architecture deserves an advocate. It deserved the same care in both design and fabrication, that any big-budget public project should garner.
Auburn's Samuel Mockbee Gets Rural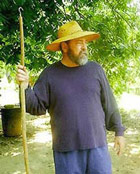 A native of Mississippi, Samuel Mockbee spent his entire career teaching and practicing in the rural south. After years of teaching, Auburn's Samuel Mockbee wanted to be more than a "house pet for the rich". In 1993 he approached the architecture program at his alma mater with a proposal for a design/build program with an explicit commitment to helping the financially disadvantaged of the surrounding rural community. With a grant from the Alabama Power Company, Mockbee and Professor D. K. Ruth established the Rural Studio. The Studio allows students the opportunity to design and build homes for it's neighbors, begging with the African-American families of Hale County, Alabama. The first house, built using straw bales, was for an elderly couple and their three grandchildren. Since then more then twenty projects have been built. The Rural Studio does amazing work with relatively tight budgets, providing a hands-on educational experience where students are intimately involved in every stage of the process. This gives partners a unique perspective in the often-overlooked vertical aspects of architecture and community design.
Melding Architecture and Ethics
Mockbee was a gentle bear of a man who practiced architecture from his heart. The world is a truly a brighter place because of his insight and compassion. Sustainable architecture is both a principle and a necessity, since the projects have very modest budgets. In 1998 he was awarded a Macarthur fellowship "Genius Grant" which gave him the opportunity to extend his Rural Studio program. If you'd like to learn more about his work during this period, PBS produced a brilliant documentary titled "Citizen Architect" which covers his work extensively. In 2003 he was posthumously awarded an American Institute of Architects Gold Medal for his lifetime commitment of producing both quality and efficiency.
"Architecture has to be greater than just architecture. It has to address social values, as well as technical and aesthetic values. On top of that, the one true gift that an architect has is his or her imagination. We take something ordinary and elevate it to something extraordinary."

Samuel Mockbee
A Few Samuel Mockbee Projects
We've selected a few of our favorite architectural designs for you below - The Hale County Animal Shelter, The Boys & Girls Club of Akron, and the Pod Community of Newbern, Alabama. If you'd like to see more projects, the Rural Studio has fantastic documentation on their website's "Design Projects" section. The site also offers several ways that anyone can support or donate to their particularly honorable cause.
If you believe there are any other points, please shoot us a message on your favorite social network. Thanks for stopping by and if you've found this info useful, please share with the buttons below.