Wayne White is the kind of character who avoids the spotlight. His art however does not.
Some of the most interesting characters that you'll ever meet are often uncomfortable in accepting attention. Wayne White is one such character. You've seen his work and probably marveled at his unique take on reality - but odds are, you couldn't pick him out of a lineup.
Wayne White's Backstory
Born and raised in the outskirts of Chattanooga, Tennessee, Wayne White's artistic isolation played a huge part in developing his own style. After a childhood spent weighing the pros and cons of standing out, Wayne's graduation from Middle Tennessee State University triggered a search for a larger pond to play in. Moving to New York allowed him to take on illustration work for several media outlets. Eventually he worked his way up to local powerhouses like The Village Voice and New York Times. The professional success had a smaller bearing on his future then the interesting artistic company that he kept.
In 1986 Wayne was asked to help produce the interesting world in which comedian Paul Rubens would live. The resulting TV show came to be called - Pee Wee's Playhouse. After the amazingly unexpected success of the first season, the creative team was forced from New York out west to work in studios that could better suit their production needs. A few Emmys later, he and his artist wife Mimi Pond set out to work on set and character design for a series of tv programs (including the Weird Al Show and Beakmans World). Ultimately that experience got them in the "LA Studio Rolodex" allowing them to create a few music videos including the incredible works created for Peter Gabriel's "Big Time" and Smashing Pumpkins "Tonight, Tonight".
Folk Art Meets Digital Age
To me, one of the most interesting facets of Wayne White's style can be seen when comparing his early work w/ Pee Wee's Playhouse to the Smashing Pumpkins video I just mentioned. The overall approaches differ, ultimately one is a brighter and lighter… but the unique touch of the artists hand is obvious. It's a correlation you would never make without knowing the backstory, but when you recognize it it makes complete sense. The detailed, hand made approach spurred a generation of copycats - but Wayne's work truly stood alone. In large part I believe it's because he wasn't trying to make a style - he was simply embracing the folk art roots of the southern home that he loved so much.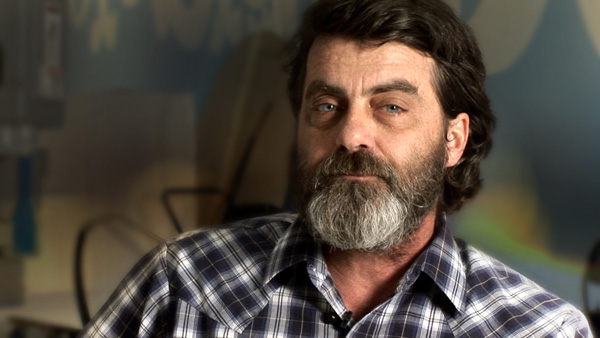 Steady Artistic Growth
Many artists would be happy with the success Wayne had had to this point, but a constant learner finds it hard to keep to one subject for long. Early in 2000 he decided to get back to his easel and focus on producing classical "art". Of course a sarcastic southerners interpretation of art is not likely to be still life fruit on a table. Wayne got in to the habit of purchasing "left over" scenic paintings and adding his own typographical additions to them. The resulting works generally contained them same elements - A pastoral background, well constructed / high impact text, and a hilarious underlying sarcasm. Examples can be seen below, but imagine a rocky "crashing wave" beach scene emblazoned with the words "Good Looking People Having Fun Without You" and you'll get the general gist of the "tongue in cheek" approach that he was working with.
Reluctantly Accepting the Spotlight
Once Wayne's projects began receiving a little critical acclaim he found the freedom to stretch his creative legs a bit. In 2009 he produced an over sized puppet of George Jones for a installation at Rice University. Later that year he had his life's work chronicled by an enthusiastic collector of his paintings named Todd Oldham. Several works later and after a little touring he was featured in a 2012 documentary titled "Beauty Is Embarrassing". The full-length premiered at SXSW in Austin, Texas to critical acclaim and exposed vast amounts of people to his unique artistic approach.
His paintings have been panned by some critics, but his artistic depth cannot be denied. Most importantly is the perspective Wayne White seems to take on the world. He doesn't take himself or his works too seriously, but he does pour his entire heart into them. For anyone who has taken an advanced art class, there is generally only one "type" worse then a bad artists who doesn't care and that is a decent artists who takes themselves WAY too seriously. Straddling the line of "being able to say what you want" and "having something real to say" is a tough, but after watching just a little of the video below (or on iTunes @ http://buy.beautyisembarrassing.com/) you'll see it's one he handles like a pro.