The Pacman Fever Wallpaper features Pacman ghosts patterned into a sweet Pacman wallpaper w\/ some halloween spirit.
This months submission is proof that Halloween doesn't need to be all about terror and debauchery. We made the Pacman Fever Wallpaper to give the fall season some old-school class and dignity. Let's be honest, nothing says dignity quite like Pac-Man... The hands-down, classiest of all retro video games.
Pacman Fever Wallpaper - Pacman Wallpaper | Mockup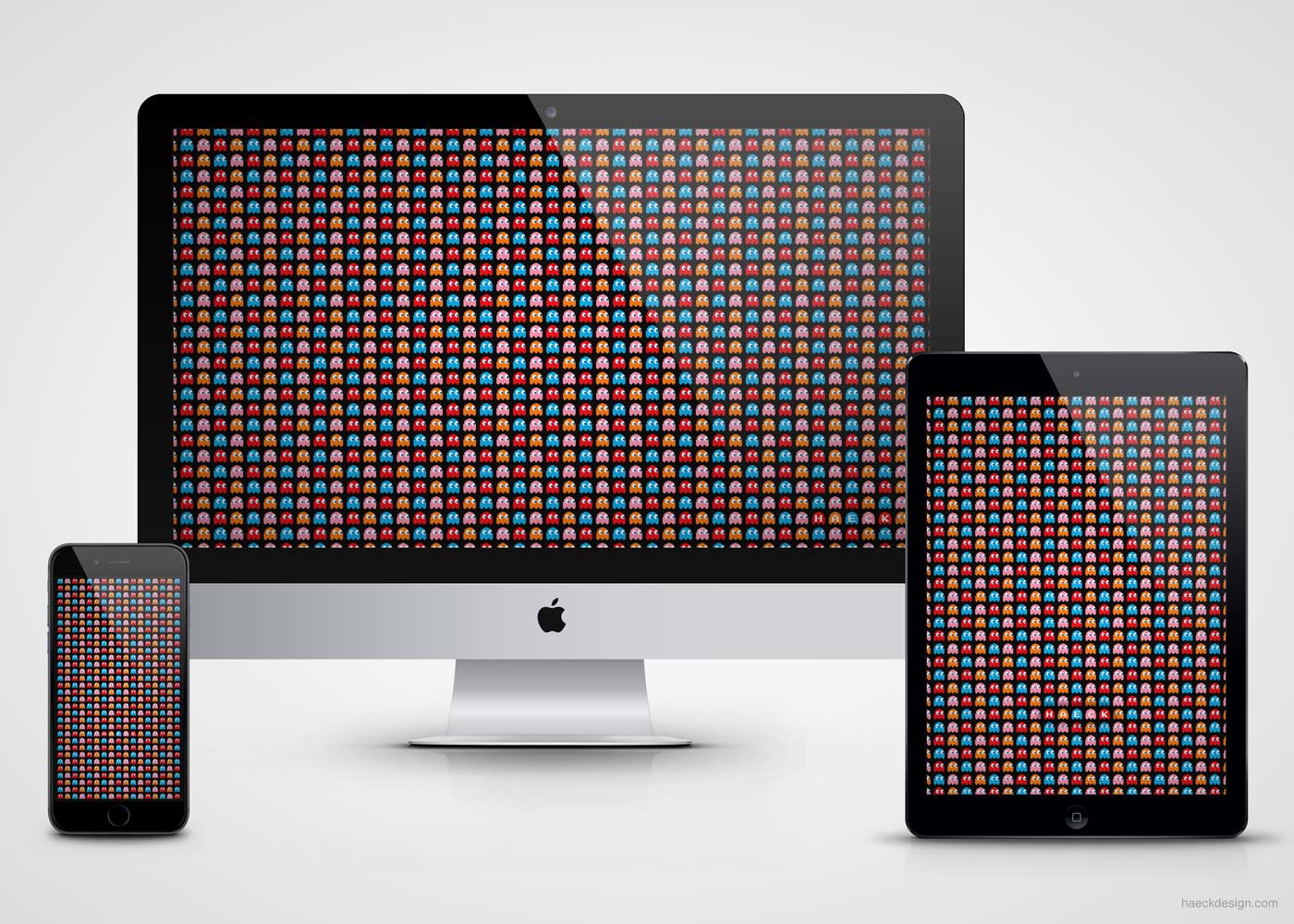 This months wallpaper is proof that I've either l been feeling festive or watching too many horror movies lately. After a little brainstorming we came up with something "Halloween" themed, but also 100% kid-friendly. We also included various sizes that can take advantage of iOS's new "Parallax Effect". While time can only tell if Apple sticks to this desktop layout, I think it's pretty clear that they love the addition of some subtle background motion effects... and who are we to disagree?
Nothing Says Halloween Quite Like Pacman Ghosts
The Pacman Fever Wallpaper is free to download and available in all standard desktop and iOS sizes (including Retina and the previously mentioned Parallax versions). Now you can easily sync your style across all your iOS devices! As an FYI - The primary distinction between the two iOS sizes (parallax & standard) is really just the additional space needed to allow for the float. I've been playing with it on my iPad and iPhone the last couple days and it is kinda fun to see the little ghosts floating around in the background. Give em a try and let know what you think.
---
If you have any ideas for next months wallpaper, please feel free to drop us a message. If you like our retro / Halloween wallpaper please feel free to share it with your folks and give Haeck Design a little social love!
Download the Pacman Fever Wallpaper
Available Sizes
5120 x 2880 5K
1920 x 1080 FHD
1600 x 900
1440 x 900 WXGA+
1366 x 768 WXGA
2048 x 2732 iPad Pro
1536 x 2048 iPad Retina
1080 x 1920 iPhone 6+
750 x 1334 iPhone 6
640 x 1136 iPhone 5
Download Pacman Fever Wallpaper
Download your individual size or just grab a zip of all of them. If you have a spare second, be sure to Like Us on your favorite social website to see our latest tutorials & freebies.