Keep Shining Wallpaper - Kubrick Tribute Wallpaper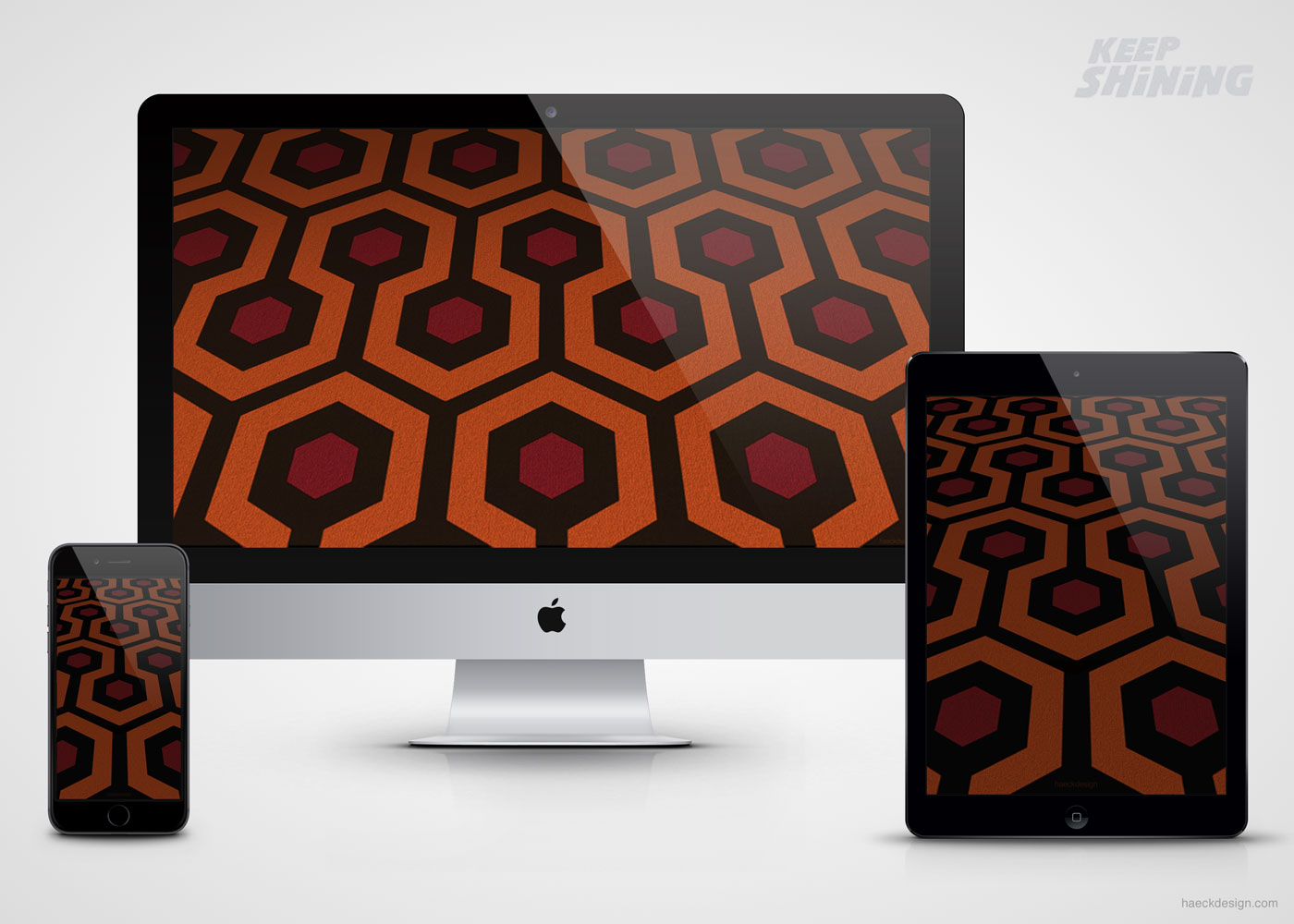 Keep Shining Wallpaper - Kubrick Tribute
The tension director Stanley Kubrick creates in The Shining, is second to none. Our Keep Shining Wallpaper memorializes Danny's voyage across that vintage Shining carpet pattern & captures a bit of the spookiness it conveys.
Symbolism hides in every faucet of a master storyteller and the Shining carpet pattern is certainly no exception. With the spookiest time of year approaching, we decided to construct a minimalist Stanley Kubrick tribute wallpaper depicting one of those absolutely timeless moments in movie history. Get your shine on with our latest monthly wallpaper freebie, the Keep Shining Wallpaper.
Keep Shining Wallpaper - Mockup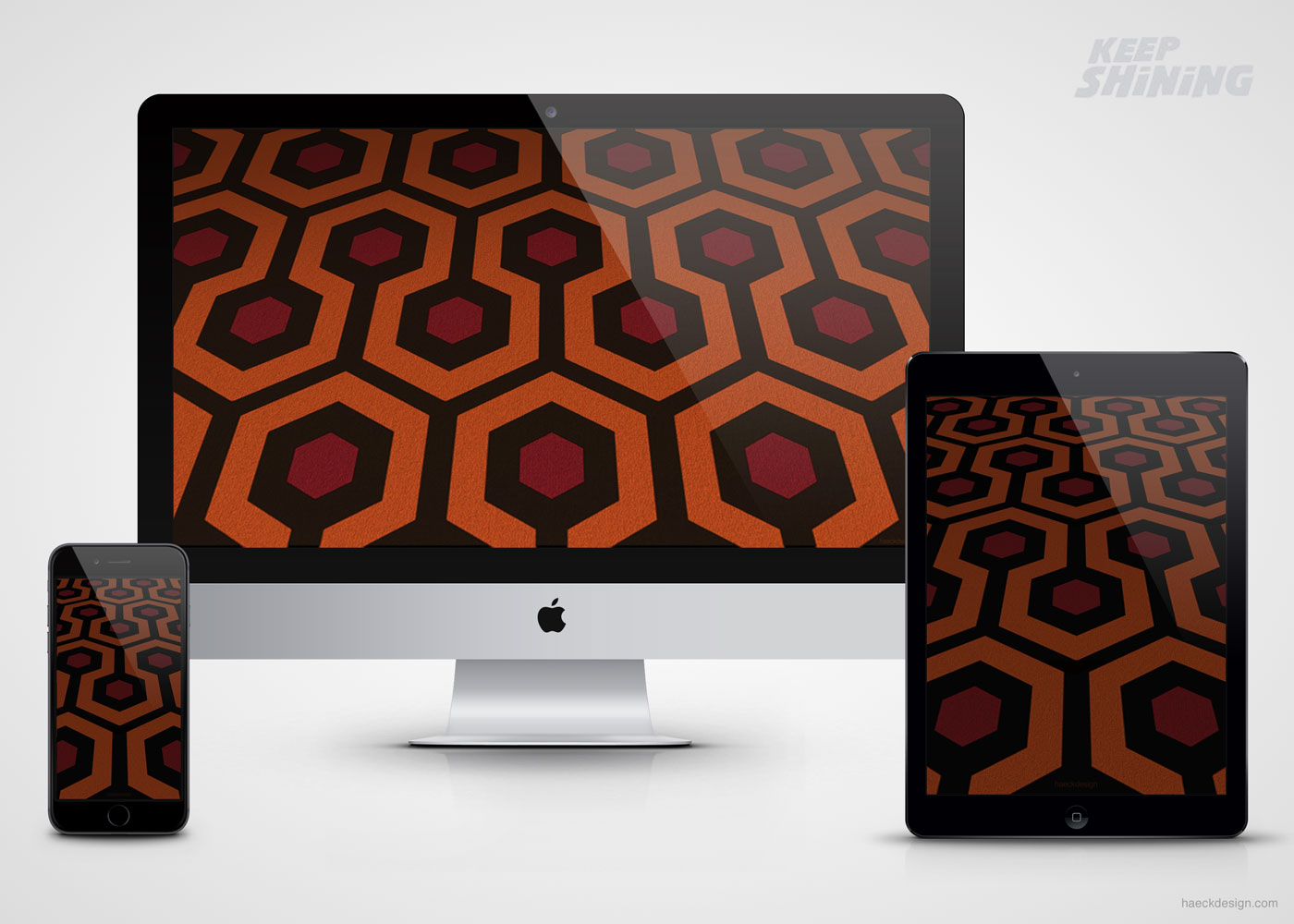 The Legend of The Shining Carpet Wallpaper
Ask a cinephile their favorite scary movies and The Shining is likely towards the top of that list. The Shining is one of those masterworks that stand the test of time and remain fan favorites through both detail and complexity. Like other classics, there are several fan sites and documentaries committed to explaining the often overlooked layers. One awesome release titled Room 237 clues into the message Stanley Kubrick may (or may not) have been conveying with the Shining carpet. Whether you chose to believe the Shining Wallpaper conspiracies or not, posts like How the Kubrick Carpet Trick Works & The Shining's Maze of Meaning paint an intriguing narrative.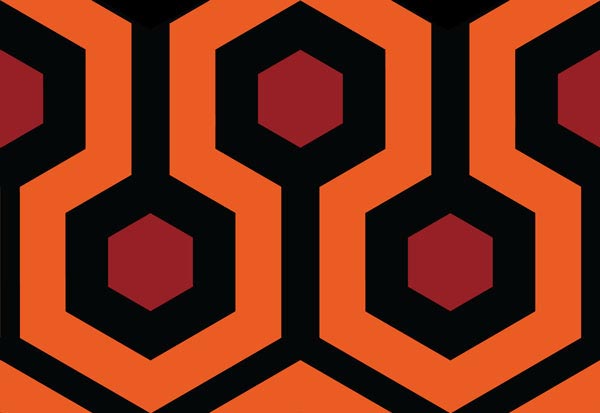 Shining Carpet Pattern
The basic pattern is formed from an orange hexagon with three subsequent borders (black, orange, & black). Then we allow the thinnest outermost black border to overlap each other. The final step is to create an orange box with a black line through the middle and stagger that "runway" on every other hexagon. This creates the interwoven effect and completes a carpet pattern that's significantly more complicated then first appears.
Download Carpet PNG
Compiling the Shining Wallpaper Pattern
If you'd like detail on how we constructed the carpet pattern hop over to the nearest textbox, but once that was constructed it only required a few steps. We filled a flat plane with our Shining carpet pattern, gave it a sharp 3 to 1 perspective, included a carpet texture, and added a border gradient. We certainly debated adding a couple creepy twins in the hallway or that sweet Big Wheel, but since it's a wallpaper we thought it best to avoid too much focused detail and just keep things minimal.
Touching Up Our Shining Wallpaper Pattern
If you haven't noticed yet things can get a little OCD in our lab, so we added a couple quick details. First a simple depth and halo gradient, since things further in the distance tend to get darker. Then we also added a gradual gradient blur that mimics the visual effect of further focal points getting blurrier. While that's obviously a subtle effect, it's one we're walking through on an upcoming YouTube tutorial (drop a follow to our Haeck Design Channel if you like Photoshop tutorials). To finish up, since Halloween is all about creepiness we added some degradation for spookiness and presto! Our monthly wallpaper freebie the Keep Shining Wallpaper is good to go.
---
We've included both packaged and individual downloads of this Shining Wallpaper in all major desktop screen sizes including iPad & iPhone variations (also including Retina versions). We've also tossed in darkened versions for iOS homepage background screens so the text on your apps isn't difficult to read. If you like it, please share on your favorite social site and as always - Thanks for stopping by!!
Download The Keep Shining Wallpaper - Kubrick Tribute Wallpaper
Available Sizes
5120 x 2880 5K
1920 x 1080 FHD
1600 x 900
1440 x 900 WXGA+
1366 x 768 WXGA
2048 x 2732 iPad Pro
1536 x 2048 iPad Retina
1080 x 1920 iPhone 6+
750 x 1334 iPhone 6
640 x 1136 iPhone 5
Download The Shining Wallpaper
Download your individual size or just grab a zip of all of them. If you have a spare second, be sure to Like Us on Facebook ;)
---
Video
Written By:
Matthew Haeck - Lead designer and resident full stack web developer at Haeck Design, Matthew spends a majority of his time creating beautiful logos, websites, print design, & staying up to date on all the tricks of the web development trade.
(About Matthew Haeck)
Related Posts