Our Free Speech Wallpaper is a simply designed Antoine Rivarol quote wallpaper with an important message for defenders of thought and speech. Without one, you simply can not have the other.
This months wallpaper is a light reminder to the importance free thought and speech play in our culture. The simple layout features a timeless Antoine Rivarol quote Speech is external thought, and thought internal speech. This free speech wallpaper provides a great reminder to avoid limiting either when you set down to do some work.
Free Speech Wallpaper | Mockup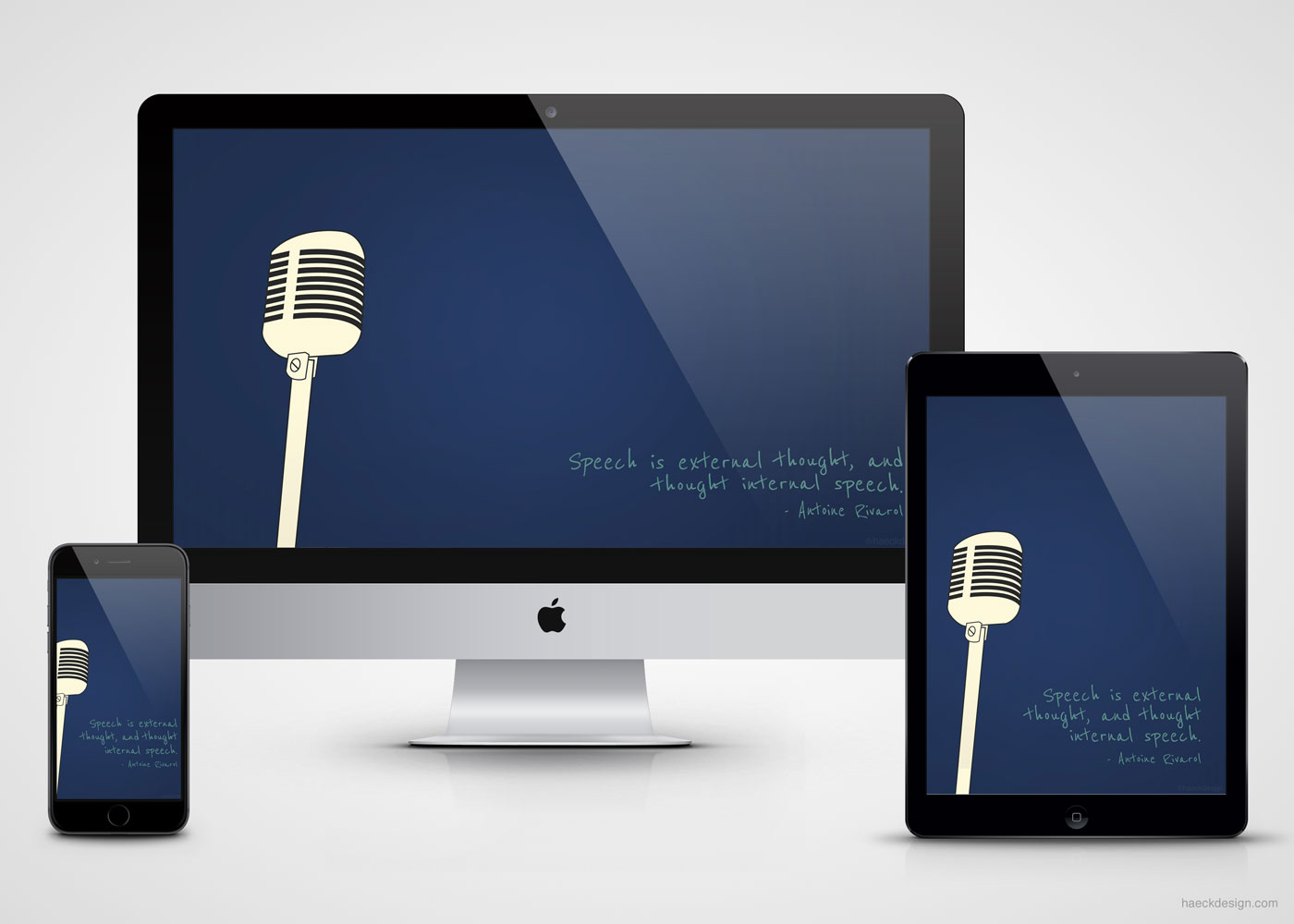 Exactly Who is Antoine De Rivarol?
Antoine Rivarol was born in southern France in the late 1700's and came to fame as a satirist. He even had the genius idea of granting himself the title of "Count" even though he was an innkeepers son. Although much of Antoine Rivarol's writing doesn't really stand the test of time (since most were just topical critiques on notable figures of the time), a few of his best quotes do have staying power. Besides the free speech quote featured on our wallpaper, here are a few of our favorites...
Some of Our Favorite Antoine De Rivarol Quotes
"Ideas are a capital that bears interest only in the hands of talent."

"Oblivion is the rule and fame the exception, of humanity."

"Generally speaking, there is more wit than talent in the world. Society swarms with witty people who lack talent."

"Memory always obeys the commands of the heart."
With the restrictions many of our local governments has been creating, I found it quite serendipitous to stumble across this Antoine Rivarol quote while thumbing through pages at a local bookstore. The value of both speech and thought are truly intertwined and really... they fundamentally rely on one another.
Get Your Own Free Speech / Antoine Rivarol Wallpaper Now
This months Free Speech Wallpaper is a simple reminder to use both. There is an overwhelming amount of truth in the concept Speech is external thought, and thought internal speech. We hope you like this months wallpaper and we've included both individual and packaged downloads of the Free Speech Wallpaper in all major sizes. We've also included iPhone and iPad sizes for you Apple lovers out there. If you like this wallpaper, please feel free to share online and as always - Thanks for stopping by!
Download the Free Speech Wallpaper
Available Sizes
5120 x 2880 5K
1920 x 1080 FHD
1600 x 900
1440 x 900 WXGA+
1366 x 768 WXGA
2048 x 2732 iPad Pro
1536 x 2048 iPad Retina
1080 x 1920 iPhone 6+
750 x 1334 iPhone 6
640 x 1136 iPhone 5
Download the Free Speech Wallpaper
Download your individual size or just grab a zip of all of them. If you have a spare second, be sure to Like Us on your favorite social website to see our latest tutorials & freebies.