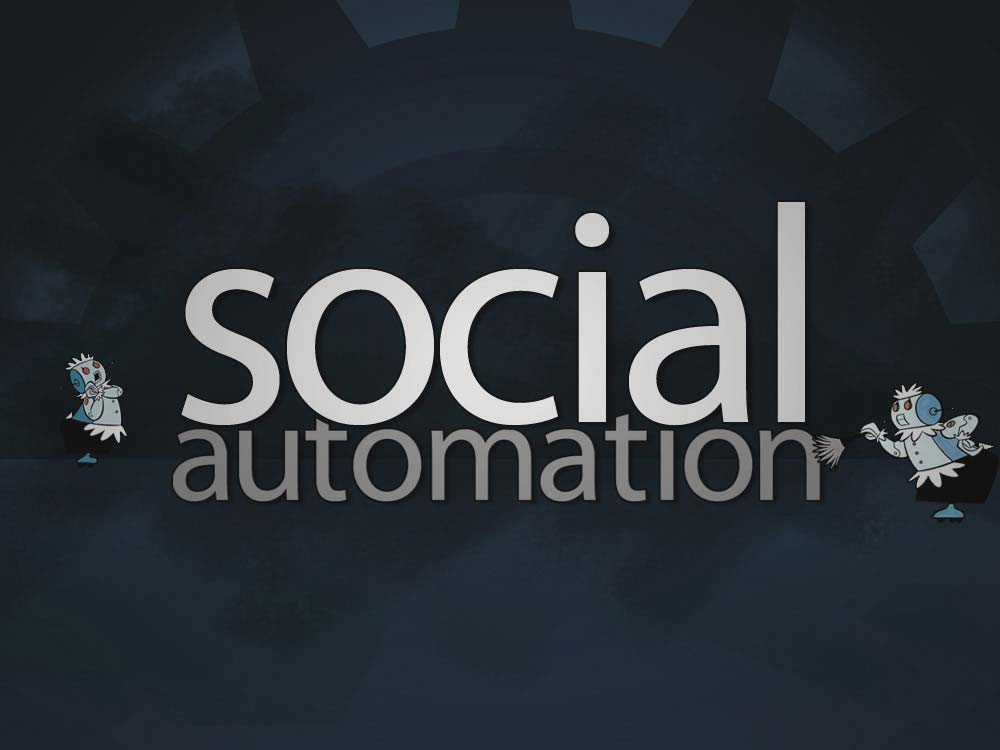 Effective Social Media Automation
Paying attention to social media is important, but it can be time consuming. In this post we'll show you how strategically utilizing social media automation tools can save you that effort and give both you and your followers a better experience.
Modern businesses face a dilemma - Your time is limited, but customers expect you to be everywhere. This problem has forced the growth of social automation and while some may find it distasteful, when done correctly it can expand your audience, multiply your reach, increase brand awareness, and save you much needed time. In this post we'll briefly run down the best social media automation tools, address the benefits & drawbacks, touch on the moral implications, and give you our three favorite low-risk / high reward options for adding social automation to your repertoire.
Automation of any sort can be tricky, so in compiling our favorite social automation tools we've attempted to keep the demands pretty simple. First, the application must provide time savings through efficiency (since that's the primary draw). It should also be reliable, easy to use, free to test, reasonably priced for continued use, and address security thoughtfully (requesting appropriate privileges from connecting accounts for example). More importance is placed on the core functionality then how many social APIs are offered, but the basics should be covered (Facebook, Twitter, LinkedIn, etc.) and having an eye on expansion is a definite plus.
Web's Best Social Media Automation Tools
IFTTT - If This Then That

Every PHP coder is familiar with "If" statements and IFTTT intuitively ties this concept to social media APIs with outstanding results. IFTTT offers formulated "Services" as triggers, allows you to connect your social "Channels", then permits instance editing to perfectly fit your needs. Building your own recipes from scratch and measuring their success rate is also a breeze, which should bode well for future community growth. The downsides for this amazing tool are largely due to the complexity of the task - It's difficult to sort through recipes, tie multiple accounts from one login (Tumblr for example), and the navigation of the site itself can be a little wonky. It also looks like the company is focused towards the "internet of things", which could slow progress on the social side of things. That said - IFTTT is our favorite tool around the office and it's completely free! If you can do a little of the pre-planning elsewhere and simply use IFTTT for it's intended purpose, you should be pretty astounded the possibilities. Recommended

Zapier

The other serious contender for the social media automation crown is Zapier. It functions with the same "If Else" base, but their triggers are called "Zaps" (...points for theming). Their design far surpasses the competition, their list of currently supported social APIs is impressive, and they offer advanced implementations like Paypal, MySQL, Slack, AWS, & Dropbox - which can add users tons of operational streamlining possibilities. Zapier is also the most functionally intuitive option, which makes their moderate premium fees (which are largely tied to use) pretty palatable. With all the benefits, we did find the testing of Zapier to be a bit buggy - Almost as if they put more resources into design then development. Creating "Zaps" for example often required several attempts before the connection was actually made. While this is a small matter, functional bugs like that usually speak to the overall code quality. So even with all the advantages - I'd give IFTTT the edge on foundation and execution. Recommended

Hootsuite

Many social media gurus live and bleed Hootsuite, but I've been a little late to the party. It is probably due to preferring Seesmic (which Hootsuite eventually bought), but I'm sure that the security scare of 2015 (via NextWeb) didn't help. Overlooking that point, it's easy to see the massive benefits Hootsuite allows. While it doesn't shoot for a wide range of socials, it does manage the few key ones pretty well (Twitter, Facebook, and Google+). The granularity of their app outshines most, but the limitations can be a little discouraging. You'll likely find yourself asking "Why don't they include Pinterest?!" ...or any other social leaders. If you can live within the limitations, you'll find yourself very happy with benefits Hootsuite offers - especially if you focus heavily on Twitter. You can easily customize your posting time, filter followers, gauge analytics, and do it all from an intuitive tab-based dashboard. If you don't require advanced site options - Hootsuite vs Buffer should be the battle at hand. If your primary focus is Twitter, this could be your gem.

Buffer App

In the same general niche as Hootsuite, Buffer makes automating social posts dead simple. Scheduling has always been the primary selling point of Buffer (although their blog highlights a few others), but 2 additions have made large impressions upon review - 1. Their browser bookmarklet and 2. Post time recommendations. Buffer's bookmarklet makes adding posts to your queue as simple as a click and a blurb. Time recommendations are nothing new, but Buffer does track your metrics and offer "on the spot" suggestions. Although limited to Facebook, Twitter, LinkedIn, & Pinterest, the fact that Zapier & IFTTT can feed it make it a solid compliment to advanced users. Buffer is our choice for tech-adverse folks, since it's simplicity offers a solid avenue for acclimating yourself to the automation concept. Their company values are reassuring, you can get tons of free use, and their pricing is very fair. While light on "bells and whistles", Buffer's shallow learning curve combined with clutch scheduling, make it an instant time saver.

Sprout Social

Sprout Social aims to combine a simple social automation tool with inbox and CRM management. While these are generally tasks handled by other 3rd party tools, if you're starting from scratch this could be a useful option to consider. Sprout clearly aims for a B2B market and while it may not excel as a "set it and forget it" option, if you have a dedicated client manager this could make their life quite a bit easier. The complexity and cost may be a detractor, but the functionality and polish should have small businesses thinking twice. Most of your social automation will be centered around Twitter, but if you're OK with addressing client issues through DM - Sprout should be at the top of your list.

Socialoomph

For design minded people, this is tough... But if you're totally willing to overlook the atrocious design behind Socialoomph, it can be quite advantageous to companies looking for a bare bones automation option. The homepage spells out the functionality pretty clearly and it does just what they say it'll do. Scheduling posts for Twitter, Facebook, and LinkedIn are easy and the addition of RSS feeds can allow some interesting potential uses. Socialoomph is simple (I can't emphasize that enough), but if your needs are few - it could be an ideal fit. From a longevity standpoint, a little design cleanup could flip it into a contender and with a workable foundation - I'd be willing to bet that that fix is right around the corner.
Honorable Mention:
Technology changes everyday and automation needs really are case dependent. That's why we though it appropriate to add a few new offerings that didn't quite make the cut, but do have their bright spots.
MeetEdgar
&
CrowdBooster
Perks & Drawbacks of Social Media Automation.
Each project deserves it's own cost benefit analysis, but lets give you the common bullet-points you should take into consideration. The most obvious benefits of social marketing automation are the time savings. It takes most people time to get into the "posting mindset" and in aggregate, that time can really add up. Automating distribution is the other large time-saver - Why post the same thing in 10 places when one can do? Being able to plan a month of posts in one sitting, immediately view optimal post times, allow team collaboration, suggesting popular niche content, track engagements... these are all tasks that previously required the time of a dedicated social media expert, but these tasks were their "busy work". Taking these tasks off their plate will ultimately benefit everyone, businesses just need to be strategic about how they fold these efficiencies into their workflow.

The potential drawbacks of social automation are pretty easy to imagine. An angry customer hates nothing more then a templated auto-reply. The ONLY thing worse is when they're attempting to disguise the automation (Want to see Spirit Airlines lose a loyal customer? Click the image). You also can't ignore your socials completely after setting up automation. A scheduled post can be interpreted in different ways depending on world events and learning that the hard way can do serious damage to your brand. Automation FAILS aren't tough to find online, but these classics from Digiday and FastCompany should solidify the point.
Social Automation Do's

---

Plan Your Channels & Triggers First.
Track your Optimal Post Timing.
Setup Alerts for Potential Issues.

Social Automation Dont's

---

Don't Automate Everything.
Don't Conceal the Automation.
Don't Forget to Value Quality Content.
Moral Considerations of Social Automation
Purists will likely say that any social automation is too much, but there are cases in which anyone could attest to the value it allows. While social tasks were previously handed out to interns, companies have started to see the value and put resources in that direction. The ethical implications do run a little deeper then cost alone, but I'll leave that argument to experts much wiser then I am on the topic (see Economist.com & Philosophy.com). The basic issue is that there's been an implicit agreement in social media that contact should be personal. Utilizing API triggers and responses disrupts that agreement. Just like a phone and answering machine though, when operation is open - the two parts become compliments. The key is clarity. Don't attempt to trick your audience.
3 Huge Time-Savers Social Automation Delivers
Taking all the previous points into consideration, we've honed in on the three best "low-risk" methods of dipping your feet into the social automation world. They're all simple tasks, but tasks social media experts and business owners do every day. In just a few minutes you'll be doing more with your time - And isn't that what taking advantage of automation should be all about?
---
Schedule Your Weeks Posts: Each option above offers the ability to schedule posts, so create 3 solid posts, login, set your schedule, and load them up. Like any post, make the content helpful, include a link, and (if you can) an eye catching image. This will allow you to stress posting less, use your social time more effectively, and usually result in more post activity - especially if you take advantage of time suggestion features. (Tips from LifeHack.org)

Auto Thank You's: Saying "thank you" is always a good look and generating a thank you message on Twitter or MailChimp is a great way to spread some love. You can surely add a couple links and ask to keep in touch, but avoid self-promotion - Just express some sincere gratitude. Whether the trigger is a reTweet or page Like, if done with consideration the recipient will generally be impressed with your attention to detail and spreading positive thoughts just makes the world a better place. (Thank Yous with Zapier)

Distribute Posts to Less Used Socials: We rarely use Tumblr, but a lot of people do. Since we do use Pinterest a TON, we created an IFTTT trigger that posts hearted images to Tumblr. This automation requires no added attention, it just better spreads activities you're doing anyway. Spot a neglected social and generate a trigger that will push some activity from a social you do use regularly. This will increase your reach and audience w/ zero additional work. (IFTTT Pinterest)
---
Hopefully this post has helped many of you gauge intelligent ways of folding social media automation into your workflow. The benefits may not be earth-shattering, but the efficiencies are clear. In a world where time is becoming more valuable, these tips can regain an hour a day - and added up, that's pretty useful. If you have any social automation tips send them this way & if you've found this post helpful - Share!
---
---
Video
Written By:
Matthew Haeck - Lead designer and resident full stack web developer at Haeck Design, Matthew spends a majority of his time creating beautiful logos, websites, print design, & staying up to date on all the tricks of the web development trade.
(About Matthew Haeck)
Related Posts