The BookBook
The BookBook Case
The world of iPhone cases usually produce dull holsters coated in plastic...
The BookBook case is a distinct break from the boring plastic theme. Cases for iPhone, iPad, and laptop are all constructed to look like a classic leather-bound book. ....you know - classy.
BookBook case is a wallet and iPhone case rolled into one pocket-sized book. Open this beautiful leather book and you will see a wallet on the left and a slot for your iPhone on the right. Trade your wallet in for this handsome little book and you'll have one less thing in your pocket.
Put your money where your phone is.
Wallets and phones go hand in hand. You rarely leave home without the two of them. Now you can carry both in one BookBook made exclusively for iPhone. Instead of grabbing your wallet, phone and keys when you walk out the door, simply grab BookBook and your keys... done.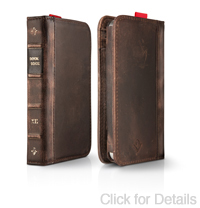 Safety in a Book
Protect your iPhone between hard covers. Just unfold the leather to talk on your phone. You can always access the ports (so you don't need to remove anything). Plus there in nothing more innocuous then a book in regards to safety.
Also a Book
If you need a place to keep your ID, a few bucks, or a post it - the BookBook case has you covered. It even has a built in thumb slide to speed up the process. The BookBook case basically simplifies your life... or at least gives you less to worry about.
---
Video
Related Posts