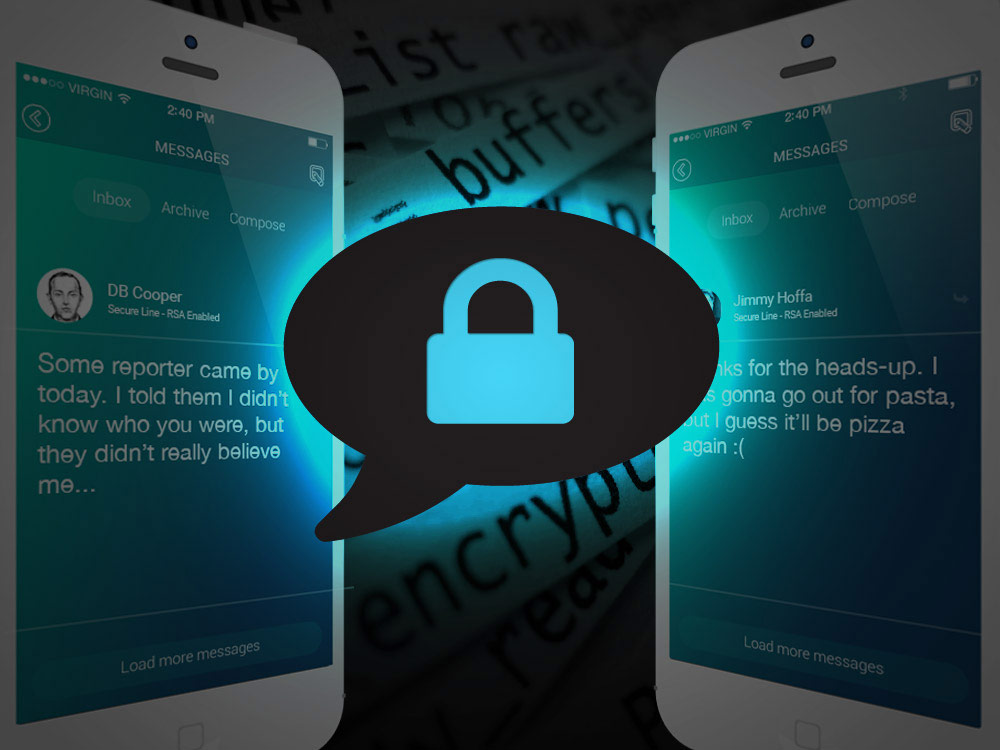 Secure Messaging Apps for Encrypted Chat
Privacy concerns are on the rise and secure messaging tools offer the public a much needed firewall. We've compiled the top secure messaging apps available, which allow secure messaging, anonymous encrypted chat, file transmission & more.
Freedom of speech is a cornerstone of the modern world, but it's slow degradation can be tough to notice. Some have fallen back on the "If I'm doing nothing wrong, it doesn't matter" approach, but that antiquated rhetoric is quickly fading. If people don't take active measures to protect their own communication, we all know that corporations and governments will gladly vacuum our data up and utilize it for their own causes. Once people come to that realization, their logical next question "how can we actually have secure chat"? While it will be nice to live in a time where the public is familiar with concepts like "key based authentication" and "cipher suites", that's currently a large ask. Luckily a more obtainable goal is already in users hands - Simply using a secure messaging app.
Secure Chat Goals & Requirements
While defining the specific security goals are obviously technical in nature, we'll start by giving you the factors we're looking for, then we'll give you our top picks, follow with some technical detail, then finish up by giving some operational tips and ways to support the cause. It's also important to note that outside of the design elements, all our of grading factors are based off of EFF's "Secure Messaging Scorecard". For those who don't already know, the Electronic Frontier Foundation is a talented team of tech evangelists that have been defending your rights behind the scene for years. While no one group should ever be considered "definitive", the EFF is certainly the closest thing to it in matters of tech and privacy. With that in mind, the primary technical aspects we're looking for are strong end to end encryption, corespondent verification, source design and documentation, recent auditing, and forward secrecy. Secondary factors being developer history, functional add-ons, and usability. Offering the public encrypted chat is an important step in protecting our collective privacy and these are the apps we believe will help us start fighting back!
Top 8 Secure Messaging Apps
All of these offerings give users massively improved security, feature end to end encryption, and are engineered brilliantly, but don't make this a "one click decision". We'll give you a little detail on each private messaging app, then try to narrow down the best target audience for each. Since security is an ever evolving field we will work to keep our info up to date, but if you have current information you believe is not reflected, please message us on social media and we'll update selections accordingly. With all of that said - Here are our top choices.
---
Since particular needs are individual, it's important to define your needs. Most usage will exist as a grey area between needs, so we'll try to give you a couple of the best for each. Will you be using it for work or personal? Any casual user should probably consider the debate to be Signal vs ChatSecure. A business enterprise user should really check out the offerings from Silent Phone and Wickr. Folks using secure text on extremely rare occasions should probably weigh out Threema vs Surespot. Do you need the most secure messaging available? You should probably let the shopping battle be Signal vs ChatSecure vs Silent. Would you like the ability of messaging from your computer as well? If you prefer to use multiple platforms, the debate would be Wickr vs Telegram. Curious of our favorites? With all things considered and a particular eye for well designed UX, our in house favorites have got to be Signal, Wickr, and Telegram. That said - All of the above options should be considered industry leaders and extremely viable options for encrypted chat.
Crucial Security Factors Involved in a Private Messaging App
We briefly mentioned the most important functional factors that went into our selection process earlier, but a little more depth is pretty useful. While security is ever evolving, these should all be considered requirements for any application claiming to be "secure". These are all comprised of EFF mentions,but it should be noted that the EFF reporting speaks more to attempt then execution in it's current version (although there is an update dropping soon). We've reviewed white papers and press as a way to double check their progress. We'll certainly include links to more technical concepts, but these are the security factors average user's should be mindful of.
End to End Encryption (E2EE): The most fundamental requirement for secure communication is to prevent eavesdropping or highjacking during transit. While a fair amount of real world issues take place on one end of this communication line, you simply cannot have secure communication without solid End to End Encryption during transmission. All transmission must be encrypted and ideally, the app's developer will not even have access to the key. This removes the possibility of the apps owner accessing messages, which also washes their hands of the process from a legal standpoint. If they don't have access to the encryption key after all, they really have nothing to offer any party that could be asking.
Operational Considerations to Ensure Secure Messaging
"I use Signal every day. #notesforFBI (Spoiler: they already know)"

Edward Snowden@Snowden
Average users may find the term "Op-Sec" intimidating, but it's really just the intersection of common sense and technology. If you hand someone your unlocked phone for example, it really undermines the value of sending encrypted texts. While I won't bother to spell out every potential operational concern, there are a few resources those concerned with security should look into. Follow all your basic manufacturer specs for iOS & Android security, make sure you're using a secure VPN if possible (especially when on the road), include a few Android specific security measures if needed. It may go without saying, but I'd also suggest deactivating your WiFi and Bluetooth and only enabling it as needed. The default iOS setting of joining open WiFi's for example produces MANY security problems as far as I'm concerned.
Another approach was brought to my attention recently and I found the concept very interesting. Although my intro offered a much fuller picture, the basic idea is - Find out what international terrorists are doing and mimic their operational precautions. If you're looking for a test group that values secure messaging, you'd be hard pressed to find better data. This article by Wired (Security Manual Reveals the OPSEC Advice ISIS Gives Recruits) goes into great detail on the matter and includes an interesting 34-page PDF guide to ISIS operational security. We're certainly not endorsing their particularly vile brand of terrorism, but they do make for an interesting study group (and you don't even need to feel guilty for stealing their ideas).
Support & Promote the Cause
Providing secure communication to the general public is a difficult job. Besides pushing back against the ever encroaching grasp of the government, it also involves standing against an overwhelming amount of large corporations attempting to harvest and capitalize on your data. Any business would find those systematic adversaries a large hurdle, but that's not it. On top of all of that lies a precarious dichotomy, you're trying to provide an insanely complicated (and cost intensive) product that must be adoptable by the masses. Despite that, almost all of the apps we listed are free to the public. So heres our suggestion - if you like the app, simply donate $10-20 to the creators. That's an insanely low cost for such useful functionality, but it can help massively to encourage progress in the field. If you believe in the cause as a whole support the Electronic Frontier Foundation, WikiLeaks, and / or Edward Snowden's Legal Defense Fund. These folks have jeopardized so much to inform the public and fight for our security, donating a few dollars is really the least we can all do.
---
Hopefully this post has helped many of you understand the fundamentals of secure messaging and some of the best encrypted chat apps to get you started. The benefits of secure communication may be difficult to grasp, but it would be very unfortunate if we all choose to learn the value by losing the option. Try these apps, share them with your friends, and give them some social love. These teams and companies are fighting a largely altruistic battle and it's a cause that clearly benefits us all. Thanks for stopping by, feel free to shoot us any updates through social media & if you've found the information at all useful - Please Share.
---
Video
Written By:
Matthew Haeck - Lead designer and resident full stack web developer at Haeck Design, Matthew spends a majority of his time creating beautiful logos, websites, print design, & staying up to date on all the tricks of the web development trade.
(About Matthew Haeck)
Related Posts