Depending on your perspective StumbleUpon can be viewed as a giant time waster or a fantastic web tool. Whatever your view, it can be an overwhelming source of traffic for your website and we'll show you how to take advantage of that potential.
StumbleUpon is a content discovery engine that was started in 2001 and their primary function has remained relatively unchanged since its foundation. The basic concept is that by aggregating tastes and tracking patterns, the site can recommend posts that you may never find by just searching aimlessly online. The web is a big place and by flipping the Google concept on its head, StumbleUpon aims to give their loyal visitors some valuable guidance. While the quality of the delivery can be debated, the concept serves a real niche and any business owner should pay heed.
StumbleUpon for Businesses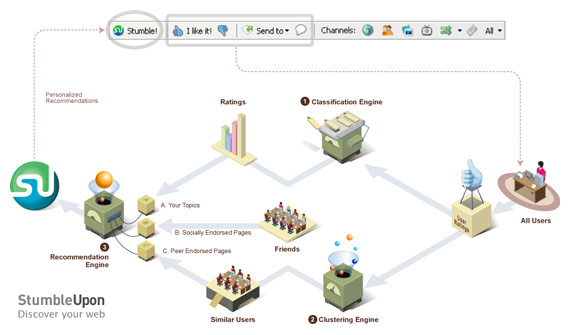 Not every business focuses on their blog, but if your website provides interesting content then StumbleUpon is a source of traffic you would be negligent to ignore. As SEO algorithms trend more and more towards content quality, this is a pool that most companies should be dipping their toes in. Starting from nothing - We've broken StumbleUpon marketing down into three general steps which will allow you to assess your individual needs and effectiveness at each step. In our opinion covering step one should be requirement for any company hoping to have a decent online presence. If you need any additional background on the company itself, Wikipedia covers their history pretty well. That aside - let's get rolling.
The 3 Levels of Dominating StumbleUpon
1
Build Your Profile & StumbleUpon DNA.
As with any social media website, let's start at the homepage and signup. Once you enter the navigation may feel a bit clunky, but focus your attention to the header since that's where all the work is done. Start in the top right by filling in your profile. Pick a consistent username, provide a bold logo for your profile pic, select categories of interest in your line of work, and include a brief blurb describing your company. Once your profile is complete, click the "Stumble" button at the top to try things out. Once you've given web pages a few "thumbs-ups" the StumbleUpon engine will start determining your individual "Stumble DNA". While this DNA plays little role in how you actually use StumbleUpon, you can track it by hovering over the color spectrum on the top right of your profile page. While not a huge factor in overall success, you should make sure your DNA is somewhat emblematic of the industry you're business is in. Think as your company rather then as yourself.
Bulletpoints
Add Existing Friends: Time to start building your community. Start by bulk adding current friends from Twitter and Facebook. Nobody likes constant Facebook invites, but SU just sends one small notification - so the annoyance factor is pretty low.
Get & Use The App: It's no secret that the StumbleUpon absolutely thrives as a mobile application. I highly suggest installing it on whichever device you're most comfortable. For me the iOS iPad app is crucial and a lot like Pinterest you can find yourself losing hours on end.
Profile Snapshot
While it may feel somewhat sparse, this is the heart of your StumbleUpon profile. All interactions are tracked and retrievable if you need to access them at a later time.

2
Growing your Community & Lists.
The first step covers presence, now you start actually marketing with StumbleUpon. Hopefully you've already acquired a few friends, but it's important to note that StumbleUpon doesn't rely on direct connections the same way that Twitter or Facebook does. The value you're providing is in the content you share and how you collect it.
Bulletpoints
Add Your Favorite Links: Most geeks have a solid collection of bookmarks lying around and this site is the perfect place to house them. Click your profile pic and select the drop-down that says "Add a Page". By providing the link, a brief description, appropriate tags, and indicating "work safety" you're effectively bringing your own spice to the StumbleUpon community. Don't exclusively promote yourself, most SEO professionals would suggest keeping your link submissions to a third or less. Lean more towards building credibility then simply plugging yourself.
Create Some Lists: In the same way solid Pinterest boards garner followers, creating useful lists can do the same on SU (Our "Beauty List" for example has gathered almost a thousand followers!). Visit your profile page, select the lists tab, and create a few lists that are related to your industry. Make sure you select a good looking list image, give it an appropriate title, and make sure the description accurately describes your collection.
Share Favorites: Cross site sharing is always encouraged and rewarded by social networks. The bonus here is that the SU header is the only addition to the link itself. If you're really picky about your links, you'll quickly notice that the pure link is included at the end of complete StumbleUpon URL.
StumbleUpon Header Snapshot
Get familiar with the SU header. The star in the top left allows you to designate pages to your list. The share button gives you your basic tweet & share functions. The interest drop-down let's you pick a topic to focus on. Your personal info and notifications will remain fixed to the top right.

3
Increase Your Reach with Paid Discovery & Advanced Distribution
Like any other social media network, SU encourages you to increase their audience by providing sharing buttons, widgets, and badges on your website. They also offer "Paid Discovery", which allows you to set a budget, target an audience, and track your results. While the cost efficiency really depends on your market and content, many SEO experts swear by making small investments in this area.
Bulletpoints
Add Stumble Share Links: Including Stumble buttons on your website is a great step to increasing reach. StumbleUpon offers their own link creator and we've included that snippet below. If you're not a big fan of including offsite JavaScripts (which is understandable), we've also included an "onclick" link. Most CMS's have a plug-in you can use, but since all that is needed is a simple URLencoded string - most web developers should be able to create a submission button pretty quickly (and we've included a WordPress version for you just in case).
Paid Discovery: We rarely advocate paying for an audience online, but StumbleUpon's Paid Discovery is one notable exception. While the internal workings are difficult to map out, a small investment here makes that page "Stickier" then most submissions. There are a few great posts covering this method (Our favorite is from SiegeMedia), but it's safe to say that many SEO pros advocate allotting $10-$20 budgets for a page. Our testing has definitely confirmed that approach to be very effective. The one caveat - Make sure it's interesting content.
Include Widgets: StumbleUpon offers a badge creator and a widget creator similar to a Facebook page feed, but the widget we find most useful is the bookmarklet script they offer for most modern browsers. This allows you to quickly trigger a page share without even leaving your train of thought. They also offer a free internal link shorter called Su.pr which functions just like a Bit.ly, but the future support of this extension seems to be in flux.
Code Snippits
Any of the code snippets below will help your StumbleUpon marketing massively. Just make sure to include your individual info and you're off to the races.
---
<su:badge layout="5"></su:badge>
<script type="text/javascript">
(function() { 
    var li = document.createElement('script'); li.type = 'text/javascript'; li.async = true; 
    li.src = ('https:' == document.location.protocol ? 'https:' : 'http:') + '//platform.stumbleupon.com/1/widgets.js'; 
    var s = document.getElementsByTagName('script')[0]; s.parentNode.insertBefore(li, s); 
})();
</script>

<a href="http://www.stumbleupon.com/" onclick="window.open('http://www.stumbleupon.com/submit?url='+encodeURIComponent(location.href)+'&title='+encodeURIComponent(document.title)); return false;">
Add to Stumbleupon
</a>

<a href="http://www.stumbleupon.com/submit?url=<?php the_permalink(); ?>&title=<?php the_title(); ?>">Stumble</a>

<div id="stblpn-w-1452629809228"></div>
<script type="text/javascript">
(function() { var widget = { 'type': 'bestof', 'layout': '1', 'title': 'haeckdesign on StumbleUpon', 'id': 'stblpn-w-1452629809228', 'usernames': ['haeckdesign'] }
if (window.STMBLPN && STMBLPN.Widget ) { if (typeof STMBLPN.Widget == 'function') { new STMBLPN.Widget(widget).render(); } else { STMBLPN.push(widget); } } else {var e, e1; STMBLPN = [widget]; e = document.createElement('SCRIPT'); e.type = 'text/javascript'; e.async = true; e.src = e.src = 'http://platform.stumbleupon.com/1/widgets.js'; e1 = document.getElementsByTagName('SCRIPT')[0]; e1.parentNode.insertBefore(e, e1);};})();
</script>
The Largest Benefits of StumbleUpon
While it may be difficult to accurately measure the efficiency of Paid Discovery, we've never been disappointed (and our founder is notoriously frugal). The additional benefits also speak to the usefulness of StumbleUpon as a whole. For small businesses it can be very difficult to have your content beta tested, which makes sharing it on SU a helpful alternative. When done right, adding StumbleUpon to your businesses marketing mix will provide you with increased "evergreen" traffic, an additional set of eyes to review quality, and a great way keep your finger on the pulse of your industry.
We hope you've found our guide to marketing on StumbleUpon useful and be sure to drop by the Haeck Design StumbleUpon Profile while you're there. If you have any advice on how small businesses can better take advantage of this tool, Please let us know and If you know any businesses I need a little more exposure please shoot them a link. As always, thanks for stopping by and if you like this post please feel free to share.