StumbleUpon is a content discovery engine that was started in 2001 and their primary function has remained relatively unchanged since its foundation. The basic concept is that by aggregating tastes and tracking patterns, the site can recommend posts that you may never find by just searching aimlessly online. The web is a big place and by flipping the Google concept on its head, StumbleUpon aims to give their loyal visitors some valuable guidance. While the quality of the delivery can be debated, the concept serves a real niche and any business owner should pay heed.
StumbleUpon for Businesses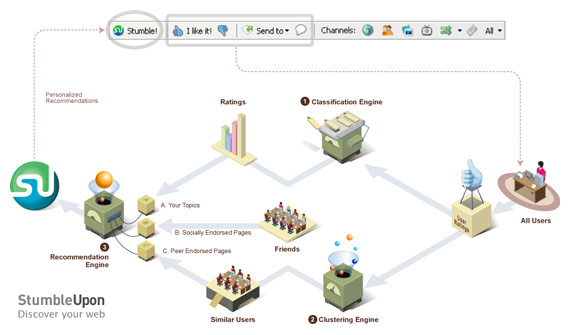 ---
Not every business focuses on their blog, but if your website provides interesting content then StumbleUpon is a source of traffic you would be negligent to ignore. As SEO algorithms trend more and more towards content quality, this is a pool that most companies should be dipping their toes in. Starting from nothing - We've broken StumbleUpon marketing down into three general steps which will allow you to assess your individual needs and effectiveness at each step. In our opinion covering step one should be requirement for any company hoping to have a decent online presence. If you need any additional background on the company itself, Wikipedia or StumbleUpon's Press Page cover their history pretty well. That aside - let's get rolling.
The 3 Basic Levels of Dominating SU
---
Build Your Profile & StumbleUpon DNA.
1
As with any social media website, let's start at the homepage and signup. Once you enter the navigation may feel a bit clunky, but focus your attention to the header since that's where all the work is done. Start in the top right by filling in your profile. Pick a consistent username, provide a bold logo for your profile pic, select categories of interest in your line of work, and include a brief blurb describing your company. Once your profile is complete, click the "Stumble" button at the top to try things out. Once you've given web pages a few "thumbs-ups" the StumbleUpon engine will start determining your individual "Stumble DNA". While this DNA plays little role in how you actually use StumbleUpon, you can track it by hovering over the color spectrum on the top right of your profile page. While not a huge factor in overall success, you should make sure your DNA is somewhat emblematic of the industry you're business is in. Think as your company rather then as yourself.
Bulletpoints
2
Growing your Community & Lists.
The first step covers presence, now you start actually marketing with StumbleUpon. Hopefully you've already acquired a few friends, but it's important to note that StumbleUpon doesn't rely on direct connections the same way that Twitter or Facebook does. The value you're providing is in the content you share and how you collect it.
Bulletpoints
3
Increase Your Reach with Paid Discovery & Advanced Distribution.
Like any other social media network, SU encourages you to increase their audience by providing sharing buttons, widgets, and badges on your website. They also offer "Paid Discovery", which allows you to set a budget, target an audience, and track your results. While the cost efficiency really depends on your market and content, many SEO experts swear by making small investments in this area.
Bulletpoints
Code Snippits
The Largest Benefits of StumbleUpon
---
While it may be difficult to accurately measure the efficiency of Paid Discovery, we've never been disappointed (and our founder is notoriously frugal). The additional benefits also speak to the usefulness of StumbleUpon as a whole. For small businesses it can be very difficult to have your content beta tested, which makes sharing it on SU a helpful alternative. When done right, adding StumbleUpon to your businesses marketing mix will provide you with increased "evergreen" traffic, an additional set of eyes to review quality, and a great way keep your finger on the pulse of your industry.
We hope you've found our guide to marketing on StumbleUpon useful and be sure to drop by the Haeck Design StumbleUpon Profile while you're there. If you have any advice on how small businesses can better take advantage of this tool, Please let us know and If you know any businesses I need a little more exposure please shoot them a link. As always, thanks for stopping by and if you like this post please feel free to share.