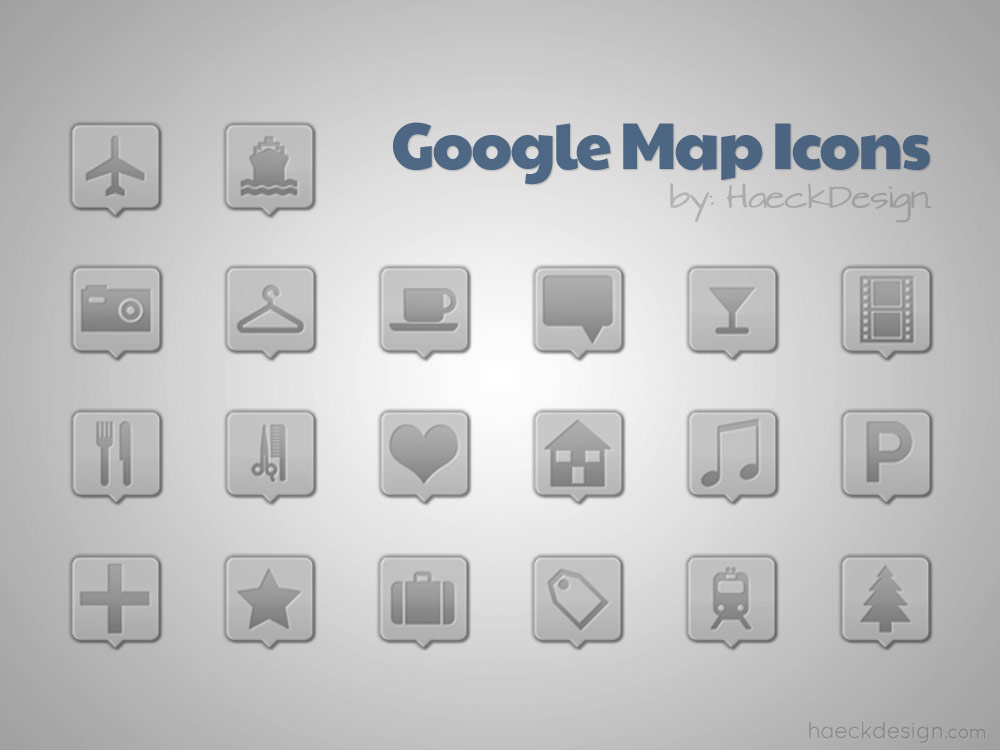 Clean Custom Google Maps Icons
We created a set of clean custom Google Maps icons to make your website's map a little cooler. We've also included a Google Maps icon vector & variously colored custom icon PNGs so you can coordinate them with your own designs.
Adding your own Google Maps custom icon is easier then most folks think. While it's mostly an aesthetic change, customizing your map icons works wonders for a website's design. An embedded Google Map will generally look out of place on a website, which is to be expected since one color theme can't really fit them all. By making the small change customizing your own Google map icons, you can cross that barrier and tie the whole look together. Follow these quick steps to coordinate your map within 5 minutes and if you'd like to build your own, we've even included a fancy layered Google Maps icon vector at the bottom of the page.
Create Your Basic Google Map
Step One: Search for your location on maps.google.com
Step Two: Select the map type you want
Step Three: Adjust the map to your desired center & zoom level
Step Four: Click on "Link" to get your embed code
Step Five: Copy & Paste the embed html. All Done.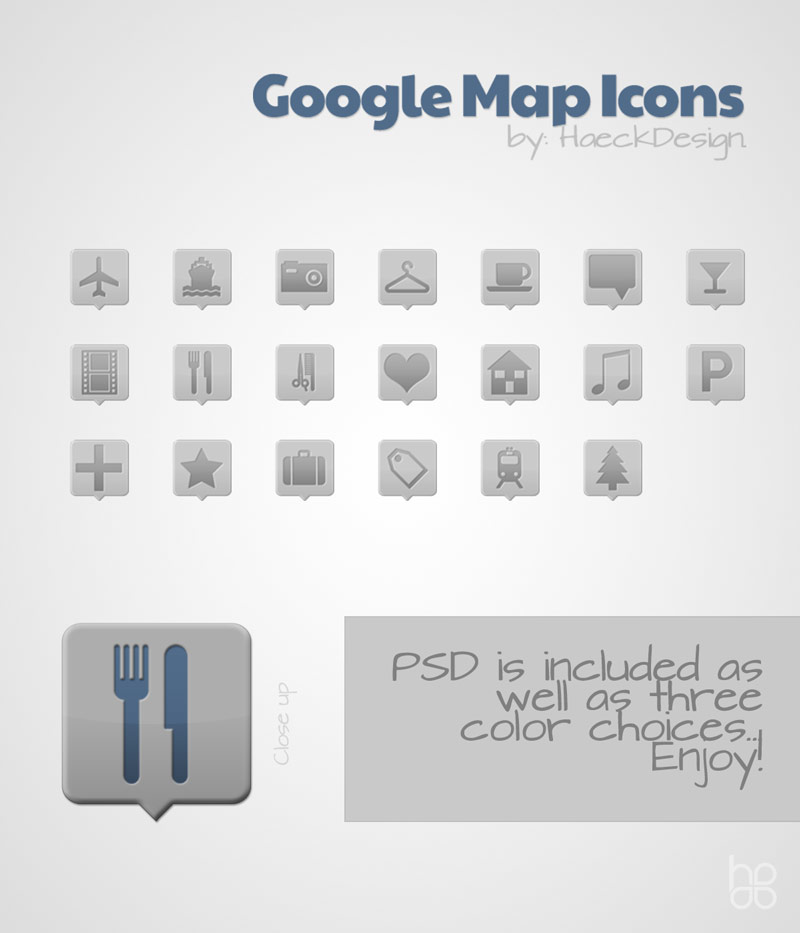 Find Your Favorite Google Maps Custom Icon
Now that you have the map you'd like to customize, it's time to include your custom Google Maps icons. While we've included a vector icon for you to use, you would normally need to convert those to PNG's to upload them. Luckily for you, we've already converted those Google Maps icons PNG for you. We'll show you how to insert a PNG icon next, but if you'd like to find another design we'd recommend checking out MAKI, Map Icons or Fusiontables. Find your favorite design or download the Google Maps custom icon below and follow up with the next couple steps.
Inserting Your Custom Google Maps Icon
Step One: As long as you're signed in - Open your map
Step Two: Click on the layer you want to add the icon to
Step Three: Click on the paint can icon and click "More Icons"
Step Four: Click image URL, enter the web address, & click OK
Customize Our Google Maps Icon Vector However You Want
If you don't love any of the icons above and have software to edit vectors, you can just edit the Google Maps icon vector we've included. It contains the basic marker form along with layers that you can easily tailor in one click. There are plenty of options already setup for you, all you need to do enable the effects you want. You'll also notice that your icons need to available online. Don't worry though, if you don't have a server of your own you can simply use a free image folder like Photobucket.
If you like our Google Maps custom icon set & vector please feel free to share with the buttons below. If you have ideas on how to make an even sweeter Google Map, please feel free to hit us up on your favorite social website. If you like the icons, please tell some friends and as always - Thanks for stopping by!
---
---
Written By:
Matthew Haeck - Lead designer and resident full stack web developer at Haeck Design, Matthew spends a majority of his time creating beautiful logos, websites, print design, & staying up to date on all the tricks of the web development trade.
(About Matthew Haeck)
Related Posts