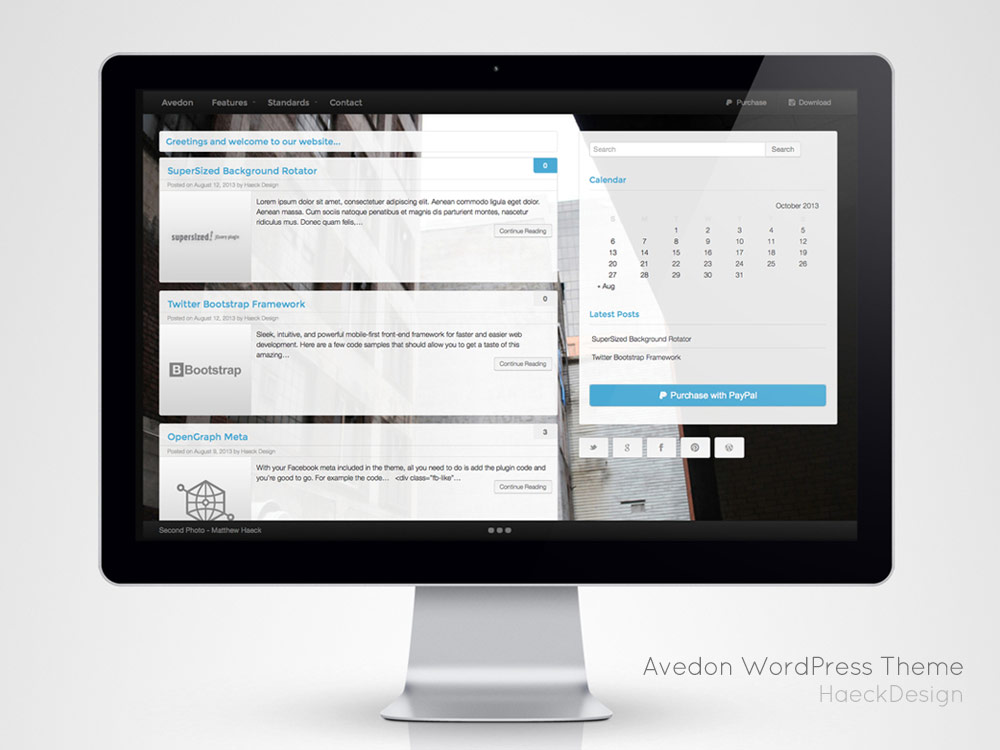 Avedon Wordpress Bootstrap Theme
The Avedon Wordpress Bootstrap Theme is a minimally coded WordPress theme built on Twitter Bootstrap. It features a 100% Responsive layout, fixed menu options, Font Based icons, Social Media options, Supersized and much more.
We've kept the code minimal to improve page load speeds, but this fully responsive WordPress Bootstrap theme features several easy to use options including a slick full page rotating background image that runs on the Supersized javascript. We've also made sure to include included all the Bootstrap goodness, retina-ready IcoMoon icons, features post flags, Google fonts, social media buttons, and an overall clean approach to WordPress Theme coding. Take a quick look at the features below and we'll let you know how we put it all together.
---
What Makes The Avedon WordPress Theme Tick?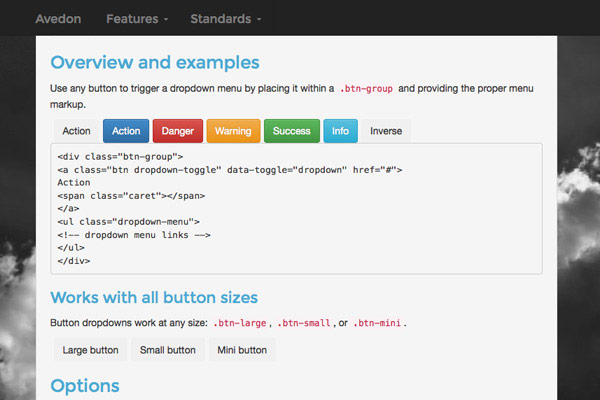 Twitter Bootstrap Backbone
We've built this WordPress theme so that it could be used as-is or as a starting point for you theme developers out there. It's 100% Bootstrap, so all of the CSS and Javascript perks apply. Dropdowns, rollovers, modals, slideshows... already baked in!
Get Your Boots Wet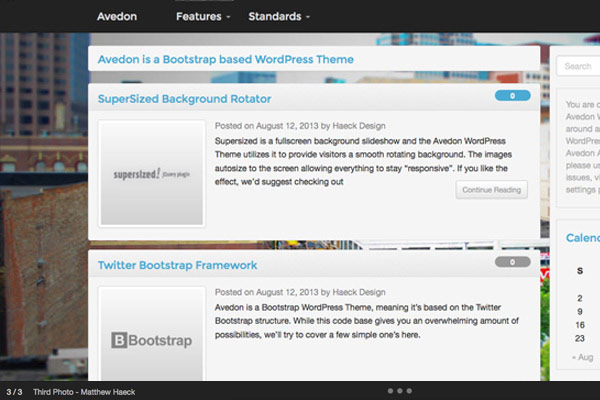 Supersized JS Backgrounds
Supersized is a clever fullscreen background slideshow script and the Avedon WordPress Theme utilizes it to provide visitors a smooth rotating background. Images autosize to fit any screen - allowing everything to stay flexible and fully responsive..
Supersize Me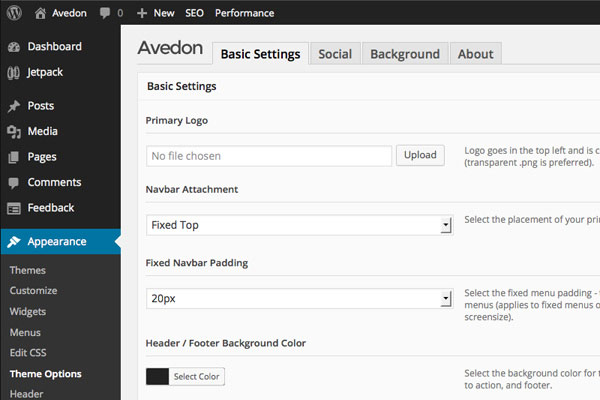 Simple WP Administration
Need different layouts, Google Fonts, Custom 404s, Social Network Icons, Menu locations, etc.? Don't worry - You're covered. Adjustment on the fly with our simple to use WP admin interface. Minimal code means no plugin conflicts and an incredibly easy layout to build off.
Try it Out
A Few of Avedon's Features...
Fully Responsive Design
2 Column Layout
Social Sharing icons
HTML5 Structure
Font-Awesome Web Icons
Full Screen Slider
Retina Ready Icons
SEO Tuned
Featured Thumbnails
License: GPLV3 - URL: http://www.gnu.org/licenses/gpl.html
Last Updated: 2014-2-20 | Current Version: 1.17
Suggested Plugins: Part of any good theme is making sure it interacts well with important plugins. While each project's needs are unique, the Avedon Wordpress Bootstrap Theme Demo only utilizes two amazing WordPress plugins - Yoast SEO & W3 Total Cache. Any solid developer should be familiar with these two tools and in our case, they really provide all the SEO and delivery optimization to keep things remarkably fast and refined. Since they work for us, we'd certainly recommend them for you.
---
Written By:
Matthew Haeck - Lead designer and resident full stack web developer at Haeck Design, Matthew spends a majority of his time creating beautiful logos, websites, print design, & staying up to date on all the tricks of the web development trade.
(About Matthew Haeck)
Related Posts