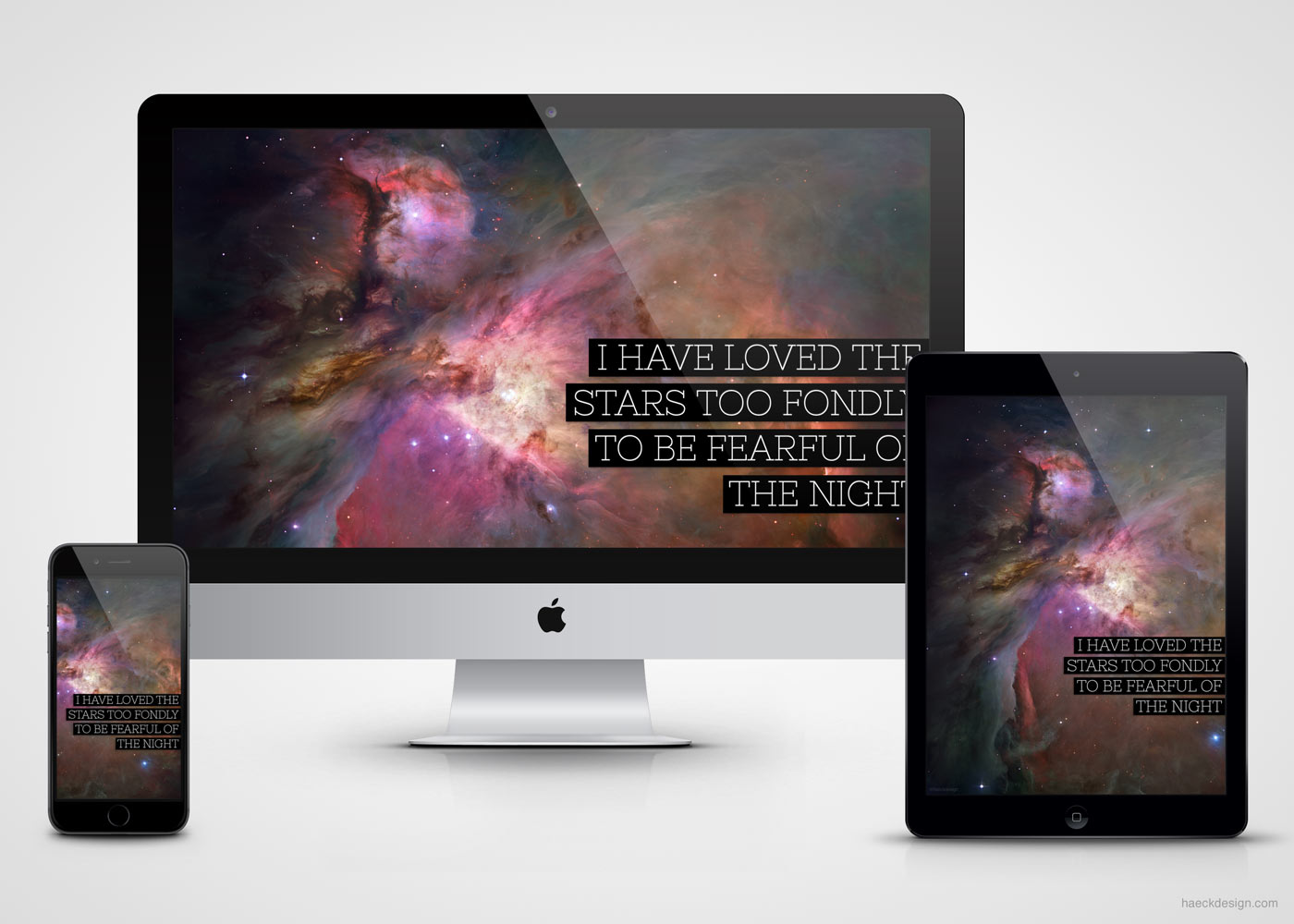 The Stars Astronomy Wallpaper
The Stars Astronomy Wallpaper is a dark Hubble wallpaper sized image, featuring an inspiring (and often incorrectly attributed) Sarah Williams quote.
If you haven't had a chance to look at NASA's high resolution Hubble pics, let me suggest that you give it a look immediately. The updated lens has given us all a crystal clear peephole to many of the galaxies wonders. With our love of NASA in mind, we've decided to highlight one of our favorite new shots for this months wallpaper. If you're a space fan, a nature fan, or just love beautiful quotes - you'll probably love it.
The Stars Astronomy Wallpaper | Mockup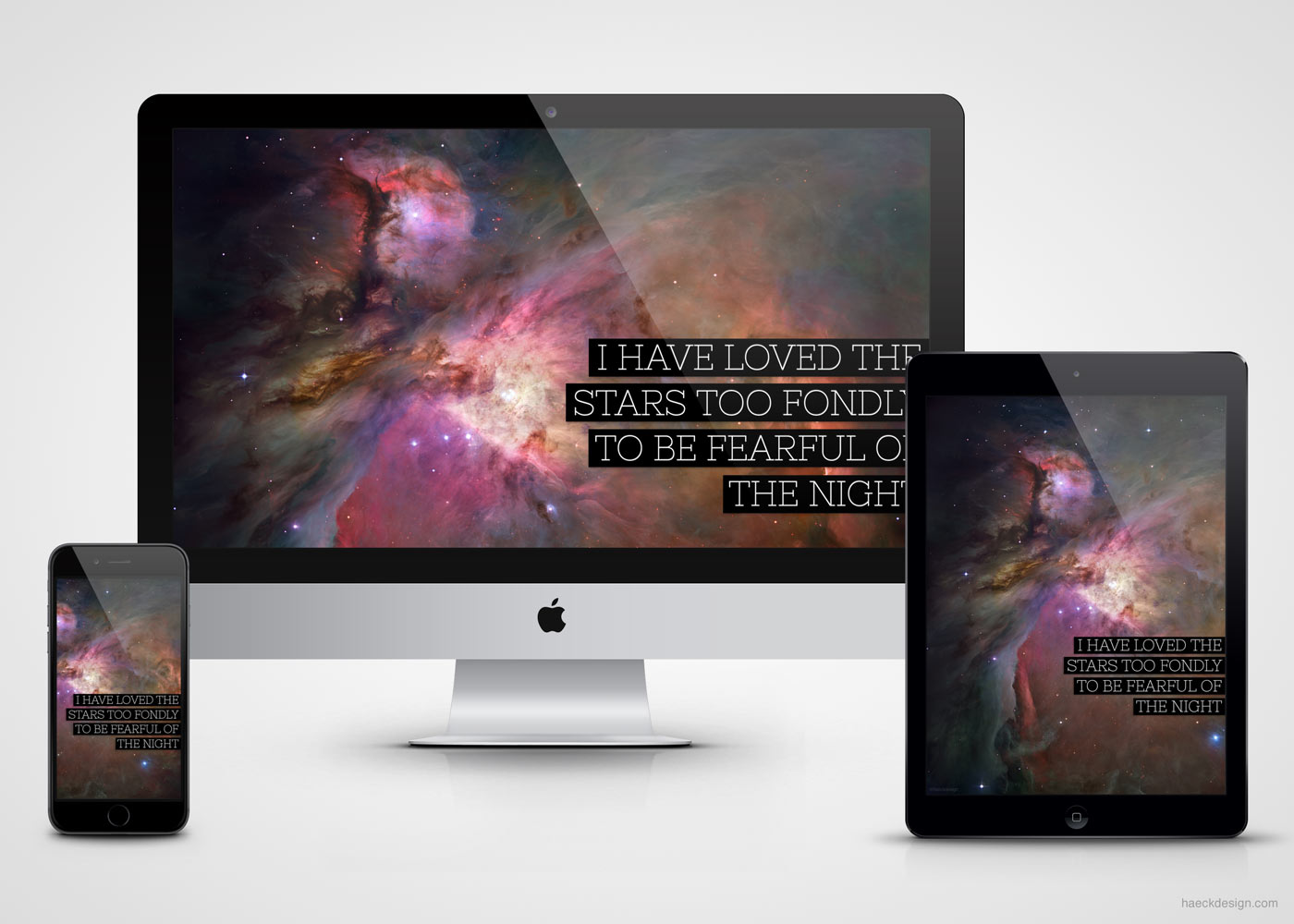 One Part Hubble Wallpaper & One Part Sarah Williams Quote
It's important to note that this quote is from Sarah Williams, not Galileo Galilei. Fact. If you'd like to read the poem, give The Old Astronomer to His Pupil a look. It's really a beautiful poem. If you're looking for a little more awesomeness, you should also check out the latest Hubble pictures at the Hubblesite Gallery. The selection of astronomy wallpaper and images is nothing short of amazing. In that vein, we constructed The Stars Astronomy Wallpaper to give all of our visitors a little class this month. We've attached an assortment of sizes available for download , so whether you're looking for an awesome desktop wallpaper, love the night sky, or just find the quote as inspiring as we do - This is the wallpaper for you.
Download this Beautiful Astronomy Wallpaper Today...
We've included a Zip and individual downloads of The Stars Astronomy Wallpaper for all major desktop screen sizes, iPad, & iPhone variations. If you like it, please be sure to share on your favorite social media platform and as always - Thanks for stopping by!
Download The Stars Astronomy Wallpaper
Available Sizes
5120 x 2880 5K
1920 x 1080 FHD
1600 x 900
1440 x 900 WXGA+
1366 x 768 WXGA
2048 x 2732 iPad Pro
1536 x 2048 iPad Retina
1080 x 1920 iPhone 6+
750 x 1334 iPhone 6
640 x 1136 iPhone 5
Download The Stars Astronomy Wallpaper
Download your individual size or just grab a zip of all of them. If you have a spare second, be sure to "Like Us" on your favorite social website to see our latest tutorials & freebies.
The Old Astronomer to His Pupil
Reach me down my Tycho Brahe, I would know him when we meet,
When I share my later science, sitting humbly at his feet;
He may know the law of all things, yet be ignorant of how
We are working to completion, working on from then to now.

Pray remember that I leave you all my theory complete,
Lacking only certain data for your adding, as is meet,
And remember men will scorn it, 'tis original and true,
And the obloquy of newness may fall bitterly on you.

But, my pupil, as my pupil you have learned the worth of scorn,
You have laughed with me at pity, we have joyed to be forlorn,
What for us are all distractions of men's fellowship and smiles;
What for us the Goddess Pleasure with her meretricious smiles!

You may tell that German College that their honor comes too late,
But they must not waste repentance on the grizzly savant's fate.
Though my soul may set in darkness, it will rise in perfect light;
I have loved the stars too fondly to be fearful of the night.

Sarah Williams
---
Written By:
Matthew Haeck - Lead designer and resident full stack web developer at Haeck Design, Matthew spends a majority of his time creating beautiful logos, websites, print design, & staying up to date on all the tricks of the web development trade.
(About Matthew Haeck)
Related Posts