Mobile Editing Apps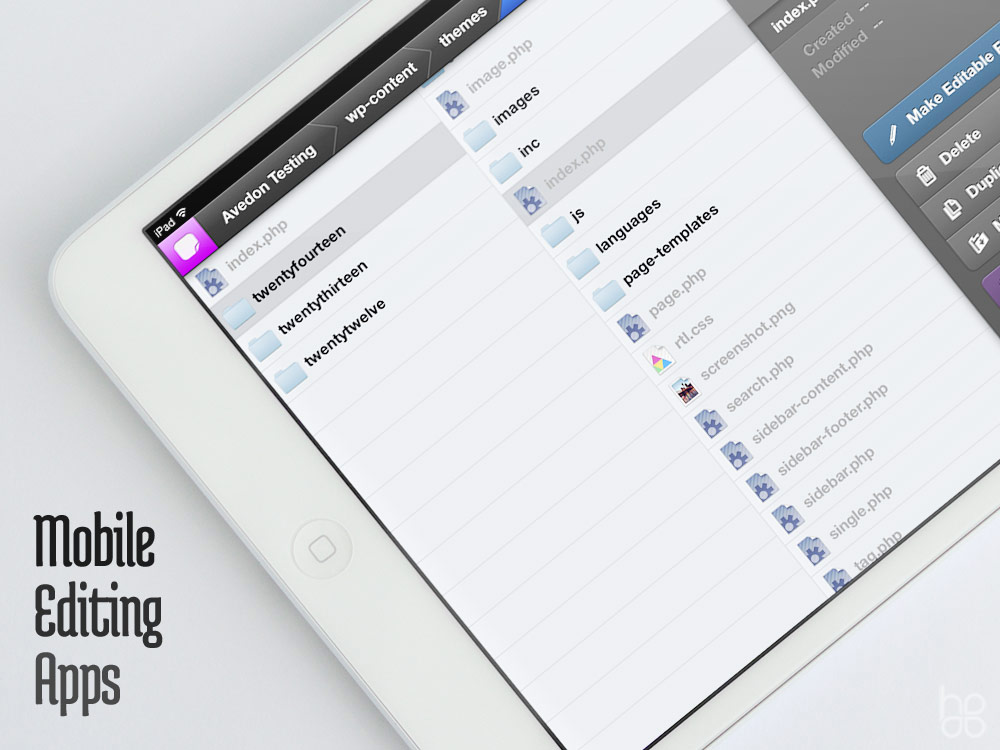 Mobile Editing Apps - iOS Code Editors
The best Mobile Editing Apps and iOS Code Editors contain an amazing power - Allowing you to actually take your web development skills on the road.
People unfamiliar with coding might imagine that a coder's life consists of picking up an iPad off the beach, knocking out an hour, then rolling over to retire for the day. Unfortunately technology has just not gotten to that point yet. The restrictions that most editing apps possess make working away from a known network very difficult. In the last few years large moves have been made in the worlds of design and development, what really hasn't changed much though are the code editors we're doing all this fun work on. What could make real freedom a possibility in the near future is the development of intuitive mobile coding applications. Historically this has been an undeserved niche, but now there are a few solid choices in the field. In the name of pushing progress lets take a look at the leaders of the pack and identify exactly what they're doing right.
Top Mobile Editing Apps & iOS Code Editors
Let me start by paraphrasing Will Ferrel and let you know that were grading on a curve here. There hasn't been much focus on this concept as a whole, but a well developed mobile code editor would be a huge asset for web pros who simply want a little time away from the desk. In my opinion - this is one market that could have a particularly bright future. We'll cover the best in the field, follow up with which factors seem to be most important, and then give a few additional options that you may want to consider as backups.
Crucial Features of Mobile Web Development Tools
A Secure / Stable Connection. I think it's fair to say that FTP is the backup method for most developers, but in this case it really shouldn't be considered. SFTP is obviously a step up and where serious mobile editors should start. Since working remotely already has some inherent security concerns, using SSH to access your server should definitely be your preferred method of connectivity.
Intelligent Use of Screen Space. Do you ever find yourself opening up multiple screens when you're working on a project? It's because scanning all that text and all those files requires one of two things - Either a lot of space or a smart utilization of that space. With that in mind, an efficient use of space and common sense navigation become very important to an applications overall usefulness.
Bonus Features & Flexibility. There are three bonus features I've found very useful while testing. File integration with Dropbox is a nice functional touch. That formula seems like it could also be applied to Drive, Box, or any other remote file holder without too much of a hassle. The Git integration on DroidEdit is very helpful and would open up a new world of functionality. Unfortunately, it's probably safe to assume that Apple won't allow that sort of access for quite some time. A dedicated snippet manager seems like a perfect combo for mobile editors and I really think that should be a requirement to be seriously considered as an industry leader.
Additional Mobile Code Editing Apps
Hopefully this has shed a little light on which mobile code editors you should be considering to enhance your development freedom. If you have any general questions or think other mobile code editors are being overlooked, please feel free to include them in the comments below and we'll take those into consideration.
---
As always - Thank you for dropping by and if you've found this post at all useful, please be sure to share it with any of the social media buttons located below.
---
Related Posts