Triangle Ghost Theme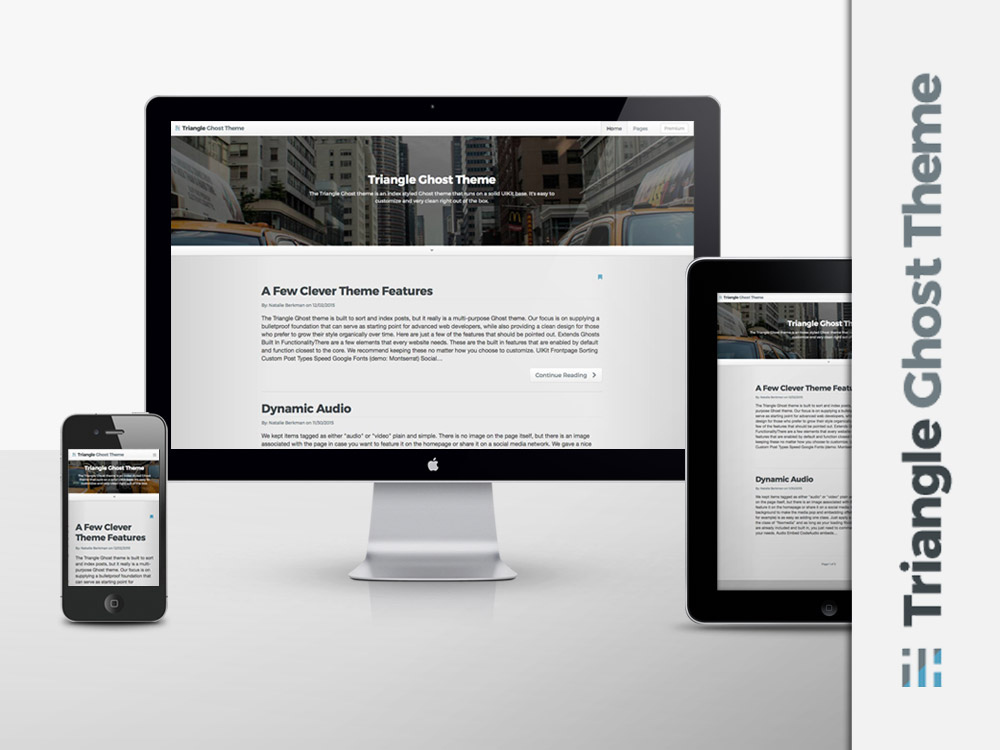 Triangle Ghost Theme
The Triangle Ghost Theme is a clean & responsive theme built for Ghost CMS. This minimal Ghost theme features a UIKit core, responsive layout, fixed menu, Disqus comments, slick animations and much more.
A triangle perfectly represents something that's both structurally solid and able to reach high in a given area. Using the Triangle Ghost Theme leaves the focal point up to you, delivers the clean code, and makes expansion a breeze. Built with a bulletproof UIKit foundation and tons of Javascript effects, the flexibility is quite extensive. It's a fantastic starting point for advanced web developers and the clean layout makes it perfect for designers that like to grow their style organically over time.
What Makes a Solid Responsive Ghost Theme?
First and foremost - We kept it simple. Like many themes, this project started as an "in-house" time saver. With an influx of recent Ghost projects, we thought it'd be a good idea to generate a skeleton that could save us (and clients) a few hours in the development process. The result is a beautiful fully responsive Ghost theme, that's open source and available as a free download to an of our visitors.
Here's What We Came Up With...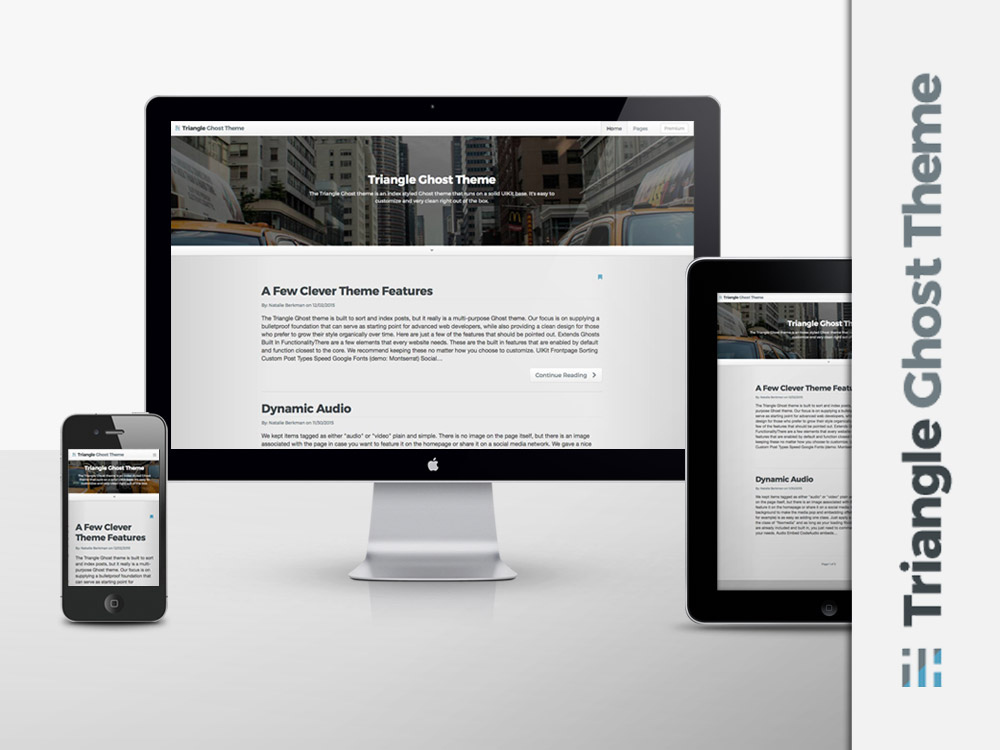 A Minimal Ghost Theme with Tons of Features....
Fully Responsive Design
2 Column Layout
Social Sharing icons
Responsive Media (FitVids)
HTML5 Structure
Font-Awesome Icons
Disqus Comments
Fancy Javascript Effects
AJAX Google Analytics
SEO Tuned
Custom 404 Page
Lightning Fast
Enough Features to Shame Most Free Blog Themes...
The completed theme is completely table-less, requires no images, is seo friendly (SEOSiteCheckup.com), tests crazy fast (Pingdom Speed Test), uses only 2 CSS & JS files, is HTML5 valid (W3 Validator Test), and cross-compatible on every major browser. Navigation, sharing buttons, tabs, icons, alerts, overlays, forms, animations, dropdowns, modals, toggles... it's all in there. Just follow the simple documentation and you're off at a sprinters pace. It's currently running my personal blog (Matthew Haeck - Personal Blog) if you'd like to see it in action. It's nothing fancy of course, but it should give you an idea of what a well coded minimal Ghost theme and about 15 minutes of customization can get you.
---
If you have any suggestions, please drop them by our Github support page. We also have a post highlighting a variety of other Amazing Free Ghost Themes if you're looking for a different feel. If you do like our Triangle Ghost Theme, please feel free to send some beer money or share some love on your favorite social. As always - Thank you very much for stopping by.
---
---
Related Posts